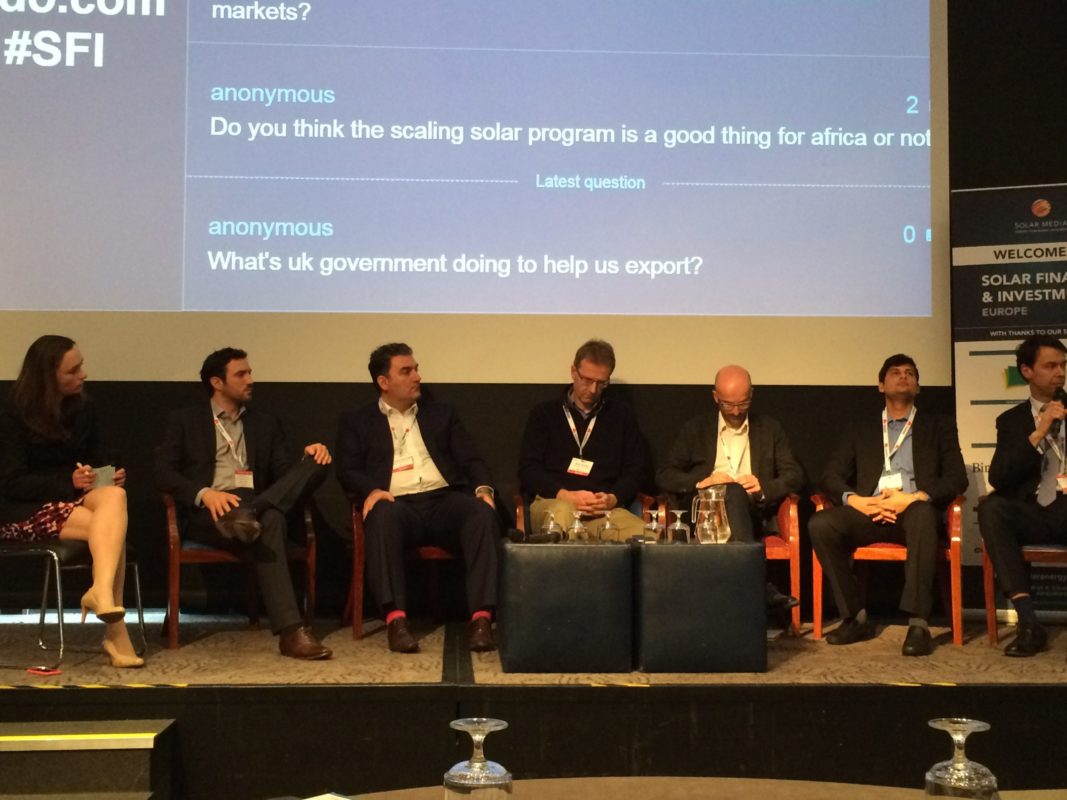 Doubt has been cast on the International Finance Corporation's (IFC) 'Scaling Solar' programme after a panel of investors revealed it could be fostering a race to the bottom for unrealistic tariffs, diverting focus from essential bankability.
Speaking at Solar Media's annual Solar Finance & Investment Europe event during a session on emerging markets, investment director at Actis James Mittell said that it is "to be determined" whether the Scaling Solar programme really is the godsend for African PV that everyone thought it was.
The programme notably achieved one of the lowest global tariffs in Zambia during a tender in June, with winning bids as low as 6.02 cents/kWh from France's Neoen SAS and First Solar.
Despite setting a new benchmark for low-cost solar power in Africa, Mittell was doubtful whether the project won will in fact go ahead.
"The IFC did give the offtaker a competitive price, which gave the bidder that comfort. But there are question marks whether the project will go or ahead or not. We've got to remember this is Africa."
The continent often falls prey to ambitious plans that fall through due to the lack of appropriate policy safeguards, or an overly-extended investor cycle.
The Zambian Scaling Solar auction has been hailed as one of the continent's best PV efforts; paving the way for governments to deliver fast, cheap and clean energy in relatively small and untested markets, but this will only be true if the projects materialise.
"We need to look at realisation rates as well when considering how successful a tender is," added Sonia Dunlop, policy advisor at SolarPower Europe.
So far, no projects from the infamous tender are yet to break ground. Whilst the tariff is undoubtedly low, bankability should be the main focusing, and preceding step, according to Solarcentury's Head of Africa Business and Project Development, Tassos Christakis:
"You need to guarantee the bankability of a PPA, and then after find the justification for a lower tariff," he said. "In Nigeria, that bankability is being provided. Speed of the auction process counts too. The focus should be on the bankability of the dealer, rather than the tariff."
The Nigerian PV market caused less of a stir in the industry than the feats in Zambia, but Christakis believes that as bankability is king, the market is poised to be a resilient one; bringing 600-700MW online by the end of the year, but investors should be prepared for things to fall through.
Nigeria only signed its first solar PPAs in July 2016, but slow and steady may indeed be the way forward.
"It is to be determined whether Scaling Solar is a good thing for Africa," said Mittell. "IFC may have dived into it all too quickly, as there are issues with land and the modelling isn't quite right. If the projects are delivered, than this is great."
However, Mittell fears a dangerous precedent may have already been set.
"As a result, tariffs have been lowered across the continent – which could still be a good thing. It did have an impact on the Egyptian feed-in tariff (FIT) with people expecting the same tariffs and running a risk of things not being delivered elsewhere – without the good things that the IFC provides."