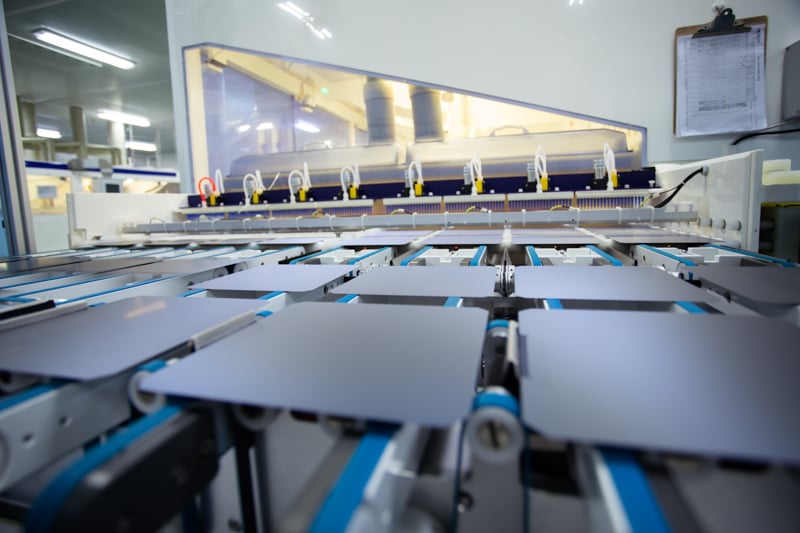 Solar module companies are more than willing to expand production this year, with new module project announcements from old and new players continuing to emerge.
According to PV Tech statistics, the industry's scale of new module project announcements has exceeded 400GW this year. In addition to existing industry leaders, there are more newcomers and manufacturers from other fields entering the sector.
Since the beginning of this year, first-tier module manufacturers represented by Jinko Solar, LONGi Green Energy, Trina Solar and JA Solar have been actively investing in new capacity to consolidate their market positions and seize opportunities brought by the industry's development.
Among them, the expansion scale of JinkoSolar is 39GW, LONGi Green Energy 36GW, Trina Solar Energy 25GW, JA Solar Technology 15GW, CSI Solar 13GW, Risen Energy 18GW and Chint Solar 18GW.
According to the data disclosed in 2022 reports from JinkoSolar, LONGi, Trina Solar, JA Solar, CSI Solar and Risen Energy, the planned capacity of each company will be 60GW, 85GW, 65GW, 50GW, 32GW and 30GW, respectively, by the end of 2022. The six companies will reach 322GW in total by the end of the year.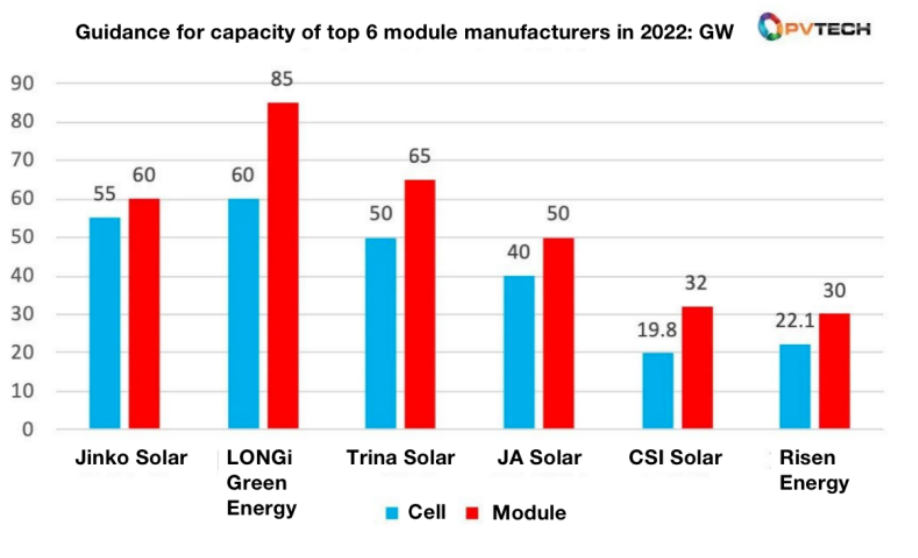 LONGi Green Energy leads the pack with 85GW of planned capacity. With the world's largest module shipment last year, LONGi is able to expand its capacity rapidly. On the other hand, the company has encountered more challenges. Apart from the need to surpass its previous achievements, its module shipment ranking is also being challenged.
Jinko Solar has 39GW of production expansion. Its module shipment also ranked first globally in the first and second quarters of this year.
At the same time, as a leading n-type TOPCon manufacturer, Jinko has increased the proportion of n-type product shipments in the first three quarters, contributing significantly to its overall performance.
As a leader in large-size products, Trina Solar's capacity and shipment of 210 modules are among the industry's top position. According to its expansion plan, 210/210R will account for more than 90% of the projected 50GW of cell and 65GW of module capacity.
New players ramping up production
As the PV industry embraces multiple new technologies, there are opportunities for new players to grab some market share from traditional giants.
Among the newcomers, East Hope Group has attracted attention with huge investments in a 35GW module project and other links in the industrial chain.
In March, East Hope Group held a launching ceremony for its Ningxia Crystal New Energy Materials Project. The project is a total solution that integrates new PV materials, new energy and agriculture-complementary solar power stations on the upstream and downstream.
The total investment of the project is about RMB150 billion (US$20.7 billion). The first phase of the project aims to build an annual output of 125,000 tons of polysilicon, 145,000 tons of industrial silicon, 10GW of mono silicon, 10GW of slicing, 10GW of cells and 25GW of modules.
On July 4th, East Hope Group and Wuhai Municipal Government held a ceremony for their agreement signing procedure. According to the agreement, East Hope Group plans to build a PV industrial chain project in Wuhai City, which includes 62,500 tons of polysilicon, 10GW of ingot pulling, 10GW of slicing, 10GW of cells and 10GW of module production facilities.
Also attracting attention is Tongwei, the leading global polysilicon and cell manufacturer, which is marching into the module segment.
In fact, Tongwei owns a module manufacturing plant with a capacity of 6GW, only it focused on polysilicon and cell business in the past. The company has inherent advantages for module business with refined production, cost control and technology.
Based on these advantages, Tongwei's module business development is more smooth than other newcomers. While others are still planning, signing contracts and working on construction, Tongwei has won large module orders, many of which are from state-owned customers.
Another company actively pushing forward production expansion is DAS Solar. Only founded four years ago, the company has expanded 14GW of new module capacity this year. At the same time, it is a leader in n-type TOPCon field. Having received many orders this year, DAS Solar has performed excellently.
At the same time, Shuangliang Eco-Energy is also expanding in the module segment. At the beginning of 2021, it announced plans to enter the silicon wafer business.
In addition, second-tier companies have accelerated plans to advance production capacity in order to keep their current market share. For example, Suntech and EGing have expanded 10GW, and Seraphim 8GW.
Expanding to meet international demand
From the announced statistics, the above-mentioned new and old players have rolled out more than 374GW of capacity expansion plans. And there are many official announcements from other companies yet to be counted in, which could reach the gigawatt level. So far this year's newly added capacity has exceeded 400GW in total.
Of course, there may be some differences during implementation despite the large scale of planning. Many companies will implement their schemes in stages and the final situation will depend on the implementation of each stage.
Data from the China Photovoltaic Industry Association (CPIA) shows that in 2021, China's solar module capacity was 350GW per year, up by 59.1% year-on-year. Actual module production for the year was 182GW, up by 46.1% from 2020.
From 2013 to 2021, China's PV module production accounted for more than 65% of the world's total, with a record high of over 76% in 2021.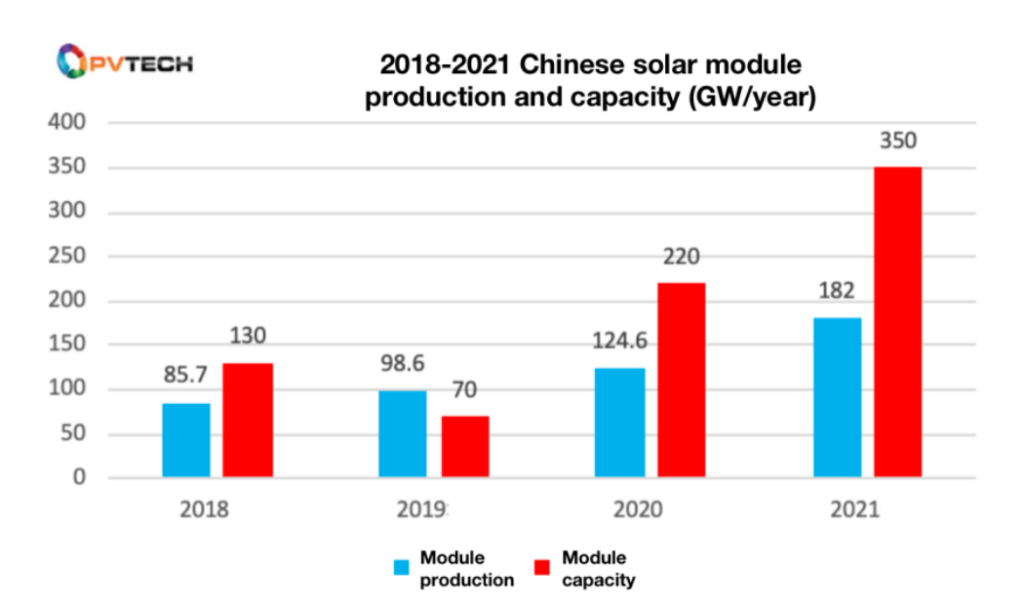 With this year's expansion pace, it could be another record year. So what about global demand this year?
According to data released by the National Energy Administration, there were 52.6GW of new PV installations in the first three quarters of 2022. Previously, CPIA's optimistic forecast for new PV installations in China this year was 85-100GW.
In terms of global demand, the International Energy Agency Photovoltaic Energy Group (IEA PVPS) analysed that 173.5GW of new PV systems were installed globally in 2021, and this figure could rise to 260GW in 2022.
Bloomberg's senior clean energy analyst Rob Barnett predicted that global PV installations would increase by 30% this year, reaching 250GW.
From the above figures, this year's global module supply and demand are very clear.
For the solar industry's future installation and development prospects, other institutions and industry leaders are all very optimistic.
According to LONGi Solar Research Institute, by 2030, the world's newly installed solar capacity will reach 1,500-2,000GW. This will be ten times the number of new installations in 2021.