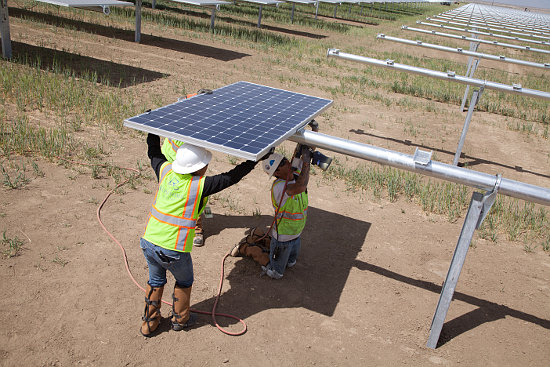 French oil major Total's impending €950 million acquisition of battery manufacturer Saft puts the company at the front of the pack of fossil fuel firms looking to diversify, according to SolarPower Europe CEO James Watson.
The offer, announced widely on Monday and expected to be accepted by shareholders, would give Total access to a major manufacturer of industrial and transport batteries. Total declared in April that it wanted to become a top three solar company within 20 years. It already owns a 60% stake in PV firm SunPower and is an active member of SolarPower Europe.
"The acquisition of Saft demonstrates the full commitment from Total to diversify into new technologies and renewables," said Watson. "They are leading the former oil majors in terms of their investment and determination to make a clean energy future real. They also want to be one of the leading global companies in solar, an announcement which we welcome. This is leadership in the energy transition, they recently created a new division for renewables, gas and electricity – this acquisition is them putting their money where their mouth is."
The magnitude of the deal suggests it is far more than a CSR venture. Phil Grant, a partner with energy consultancy Baringa Partners expects Saft to fill a specific strategic objective for the company.
"This acquisition enables Total to span the value chain and takes them closer to the end-users. Total are likely to have identified significant synergy value, both through the transport sector and the co-location potential with solar facilities," said Grant.
"It is a significant deal and indicates both the desire for big-oil to diversify their businesses and the premia that this asset class will carry going forward," added Grant.
Saft CEO Ghislain Lescuyer, said he was "convinced that Total will provide Saft with the required expertise and resources needed for its future development, particularly in terms of technological and commercial capabilities.
"This transaction will benefit Saft's clients and employees, who will be joining a major player in the energy space," he added.