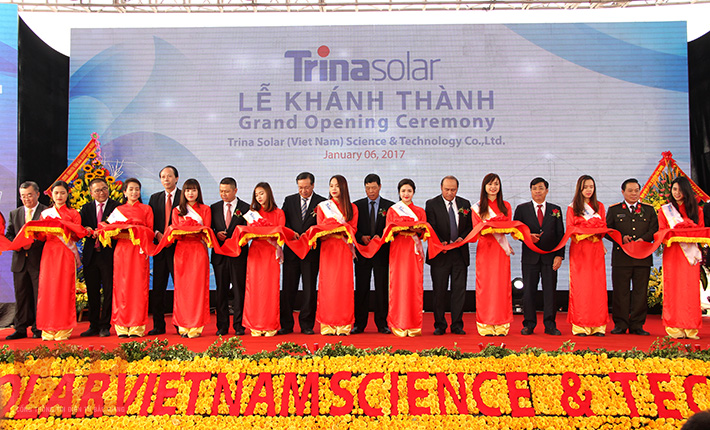 Trina Solar (Vietnam) Science & Technology, part of China-based Silicon Module Super League (SMSL) member Trina Solar, has secured a US$30 million credit facility with one of Vietnam's four largest commercial banks, VietinBank.
The credit will be primarily used to fund and finance the production and operation of Trina Solar's PV manufacturing plant in Bac Giang, Vietnam, which went into operation at Van Trung Industrial Park in early 2017. It has 800MW of module assembly capacity and 1GW of cell capacity.
VietinBank Head Office deputy general manager and executive director Tran Minh Binh said: "We have witnessed Trina Solar plant's entire development journey from starting construction to going into mass production in Bac Giang. We at both the head office and the Bac Giangbranch are confident in the partnership with Trina Solar, which is renowned for its operational efficiency and brand excellence. With the favorable new energy policies enacted by Vietnamese government, we have reasons to believe that Trina Solar will be a great success in Vietnam."
Trina Solar treasury director Tian Hong added that Trina Solar will continue to increase its investment in Vietnam and extend the partnership with VietinBank to include investment in local downstream power stations and engineering, procurement and construction (EPC) services.
Trina Solar recently announced that it would be providing 258MW of its monocrystalline PERC double glass modules to one of the largest private solar PV projects in Vietnam and what is claimed to be the first wind and solar hybrid plant in the country.