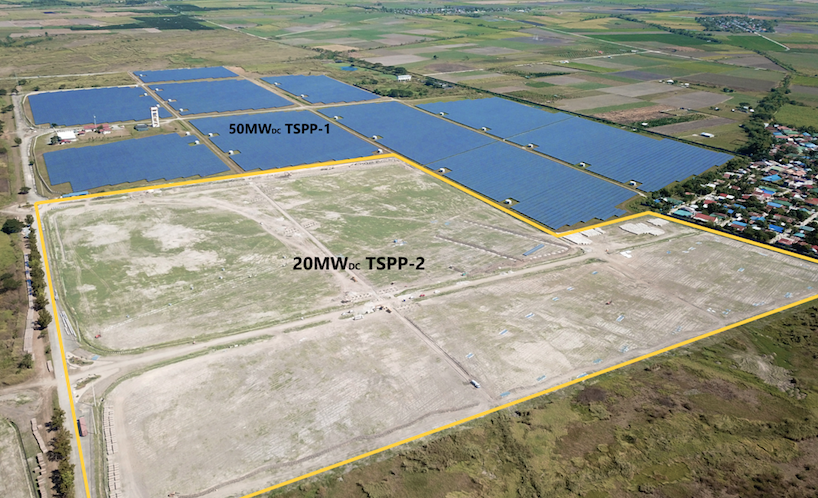 China-based PV manufacturer Trina Solar has delivered modules to a 20.4MW solar project being developed by PetroSolar Corp in the Philippines.
Trina delivered 61,200 of its Tallmax TSM PD14A modules, manufactured at the company's Changzhou factory in China, to the Tarlac-2 Solar Power Project (TSPP-2), which is adjacent to the already operational 50MW Tarlac-1 solar project.
PetroSolar Corp is a joint venture between the Philippines' PetroGreen Energy Corp (PGEC), a clean energy unit of oil production firm PetroEnergy Resources Corp, and EEI Power Corp.
The project is being built on 22 hectares in Central Technopark, Tarlac City, and is due for completion by Q2 2019 with the overall Tarlac project standing at more than 70MW of capacity, making it the largest PV project in Luzon.
Solenergy Systems will provide EPC services for the project.
Trina Solar Philippines country manager Junrhey Castro said: "We are proud to have worked with PetroSolar Corp. and Solenergy Systems Inc. on this landmark project. Trina Solar is confident that our Tallmax panels will be of great competitive value to PetroSolar. We are committed to further supporting PetroSolar's future projects with the technological and commercial advantages that Trina products offer. This collaboration is part of our long-running commitment to emerging markets in Asia Pacific. The Philippine solar industry has tremendous room for development. We will continue to further expand our commitment to support renewable energy in the Philippines."
PetroSolar vice president Francisco Delfin Jr said: "Trina's on-time delivery of the solar panels from their China plant to our Tarlac-2 project site testifies to their intense focus on customers' needs. We are pleased to work with Trina Solar for the Tarlac-2 project and look forward to more cooperation with them to benefit our future solar projects and customers. The milestone and seamless delivery also owes to the support that our project has received from several government agencies dealing with our importation such as the Department of Energy, the Board of Investments, the Bureau of Customs, and the Subic Bay Management Authority. This continuing government support is critical as we complete Tarlac-2 to become the first utility-scale solar project to be commissioned in the Philippines this year."
Large-scale solar in the Philippines had been hampered in recent years by a hold up at the Energy Regulatory Commission (ERC), but a local media report from PhilStar today said that the Department of Energy (DoE) has endorsed another seven PV projects.