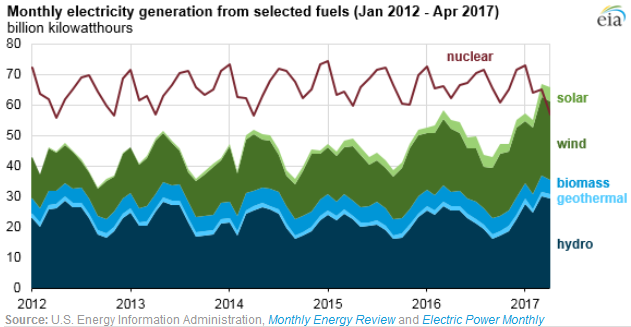 In both March and April, US monthly electricity generation from renewable energy surpassed that of nuclear for the first times since July 1984, according to the US Energy Information Administration (EIA).
This came partly due to rapid renewable energy deployment, but also due to maintenance and refuelling schedules for nuclear stations. Such maintenance is timed to coincide with the lower power requirements of spring and autumn.
Wind, solar and hydroelectric power all saw increased generation. EIA forecasts renewables to surpass nuclear again during the summer months, but overall in 2017, nuclear will generate more power.
More than 60% of all utility-scale electricity generating capacity that came online in 2016 was from wind and solar. Between March 2016 and March 2017, solar generation also increased by 65%.
EIA also expects total solar generation to increase by 40% in 2017.
In contrast to the recent rise in renewables deployment, net generation from nuclear power has remained fairly unchanged since the late 1990s.