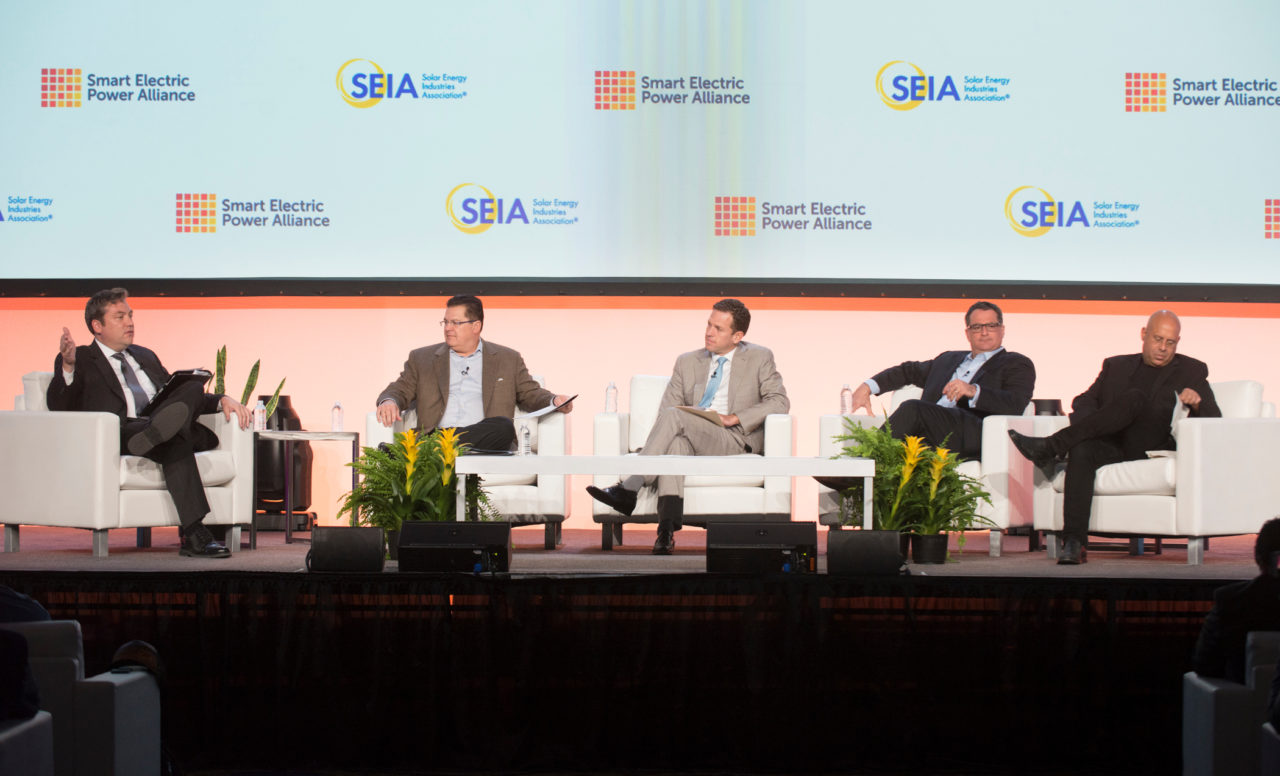 Despite US solar rapidly transitioning from an alternative energy source into a leading energy solution in recent years, barriers in regulation, communication and technology still prevent the industry from taking off into the mainstream arena, according to a panel of experts at Solar Power International (SPI) 2016.
"For me this industry is no different to how Uber is to cabs and Airbnb is to hospitality. It's a disruptive industry," said David Kaiserman, CEO of leading real estate company Lennar Ventures.
It is clear that solar has potential, with SunLink president and CEO Michael Maulick envisioning that the "majority of energy produced in the future will be of a distributed nature", with solar of course playing a significant role in that. But whilst more than 60% of new electricity capacity in the US last year came from renewables, solar still only accounts for 1% of total electricty supply. But what is stopping that from getting to 10%? Or more?
Regulatory restrictions
Recent events in Nevada to do with retail net metering serve as a perfect example to the regulatory struggles that plague the solar industry. Despite the fact that 20 states have reached grid parity, the nation at large is still very sensitive to regulation, which puts the industry under severe risk, according to SolarEdge founder Guy Sella.
"It's funny that this is a technology industry but we are still coming back to policy," said Craig Cornelius, president of NRG Energy, who also beckoned the question whether the problem truly lies in policy, or whether it is simply an educational issue; making sure everyone understands the value proposition of solar.
It should be remembered that the driving force behind state legislators and public utilities commissions are the voters, so relaying the message of solar to them is paramount.
Communication is key
For Kaiserman, the problem is not only one of education but also of communication, asking why the industry is "afraid" to talk to consumers. "The root cause of the problem is that we cannot communicate effectively. The symptom of that is what you see in Nevada." He also added that problems in communication cannot be underestimated, as the portrayal of the wrong information could "genuinely scare people out of excitement and into inaction". Cornelius echoed this, pointing out that the direct proposition of solar can be confusing to a lot of residential and retail customers.
Unification
Clarification on policy and communication will lead to a unified vision, which Maulick identified as a chronic issue that is holding the industry back.
"The industry needs a bit of a vector shift. We need to make advances beyond what we are doing today. It is not moving fast enough. We are lacking that framework. One visible sign that propelled the technology industry was openness. There's no point trying to hide designs from competitors; let's share them. We've got to be open and working together to accelerate what we are doing and consolidate into a single view."
Timing & technology
As with everything, striking at the right time is critical. The panellists were all in agreement that the fundamentals for a booming solar industry are in place, but Kaiserman warned that if the industry does not act fast, someone else is going to stake their claim and take credit for the groundwork that is already in place.
"We need to all stay relevant. Conduct yourself as if there are risks," he added.
Speaking to PV Tech on the show floor, Alan Russo, CEO of REC Solar, shared the same thoughts:
"The barriers are more on timing. I've never had a meeting in the dark, so to do nothing is a perfectly reasonable strategy for customers who need electricity. If it is a vitamin or a painkiller – you are always going to spend your money on the painkillers first and foremost. You're never going to skip the Tylenol when you need it, but how often do you take a multivitamin?
"I think solar has always been a vitamin and not a painkiller. But when it goes mainstream and the business mandates are there, not notional, eventually we are going to hold ourselves accountable to certain things because we believe as a business we have to. That message just hasn't been sent down to the people who are responsible for procuring. It's ok not to do it. It's ok to prioritise other things. Ultimately that is the biggest barrier because we know you can save money doing it, we know it is good for the environment, we know it works, but the impediments are artificial."
But in order to achieve this, technology needs to adapt. Sunlink's Maulick pinpointed three parts that need attention in order to get solar the next level: cyber security, grid integration and energy storage. Sella agreed, voicing that storage needs to become both "cheaper" and "more accessible" in order to elevate the solar value proposition.
"We need to act like an industry that has direction and the only way we can do that is the incorporation of technology to feed designs to lower the cost," said Maulick.
Economics
Everyone can conceptualise that solar is going to be important in the future, but at the end of the day, people are going to do what is going to make money, so it all comes down to cost and profit.
For solar to surmount this issue, it will need to enter a new cost trajectory paradigm, and now is the right time to do this; "Now we are looking at transformation for financing structures. Changes happening now in capital markets will end up meaning that people are looking at differences to the conventional structures today.
"We are at the beginning of a new Renaissance period for big utilities. Many innovators are now taking a long-term view."
The good news, as SEIA interim president Tom Kimbis pointed out, is that solar will never go away. It is just a question of how ubiquitous it will become.