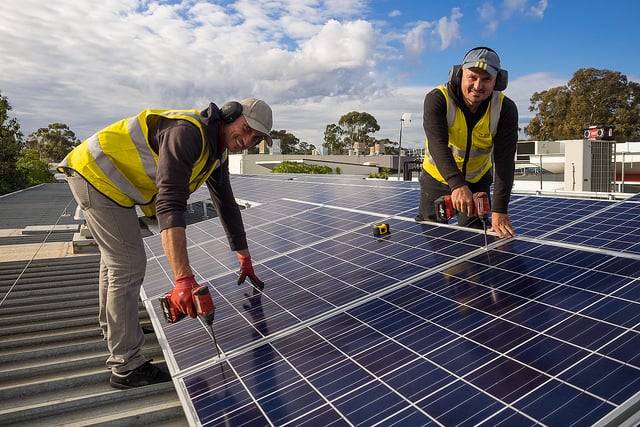 The Victorian government in Australia has confirmed plans to give payments to residential solar system owners that supply electricity to the grid during peak hours.
Solar power is critical for the grid when under stress, especially during surges in air-conditioning use in summer heatwaves, said Clean Energy Council (CEC) policy manager Darren Gladman. The plan to reward solar households should also encourage the installation of more residential energy storage batteries, whose price is falling but is still beyond the purchasing power of the average homeowner.
Under the new 'critical peak payment', different minimum payments for solar energy will be paid to solar users during different time periods. CEC said these payments would be up to AU$ 0.30/kWh (US$0.23).
Gladman said: "The reality is that solar power users in most states are paid a very low rate for their power during periods when that renewable energy is worth a premium. It makes sense that if the value of electricity suddenly jumps due to heatwaves or other peak demand events, solar users should be rewarded for the electricity they are supplying for everyone's benefit during these periods."
Reece Turner, consumer campaigner for Solar Citizens, said the plan would result in "relatively modest gains" for solar owners, but will also create an environment for a more representative assessment of the value of solar on the grid.
This all comes in stark contrast to the controversial national spat about whether renewables, particularly wind, were responsible for a blackout in South Australia during September. Indeed, industry members pointed out that the outage was caused by a once in 50-year storm hitting network infrastructure; not renewables. Similar controversies in South Australia emerged in July.
Referring to the new plans, Turner said: "This is a first for Australia and indeed the Victorian Government is leading the world with this announcement to better value the benefits of rooftop solar or distributed renewable energy. The Victorian Government should be applauded for firstly undertaking this rigorous analysis of the 'true' value of rooftop solar and now acting to ensure this value is promptly, and properly, realised."
The plans came in response to recommendations from the state Essential Services Commission over the value of solar energy. In March, Victoria also announced plans to fast-track connections to the grid for rooftop solar installations.
Turner added: "Coupled with battery storage, rooftop solar also has the potential to provide a more robust, decentralised electricity supply. Until now, these values have not been realised."
He also cited the contrasts with New South Wales policy, which has a zero minimum feed-in price for solar and South Australia where the regulator has proposed removing the minimum feed-in price. Meanwhile, the Queensland Government has commissioned a draft report on the value of solar, which failed to make any recommendations.