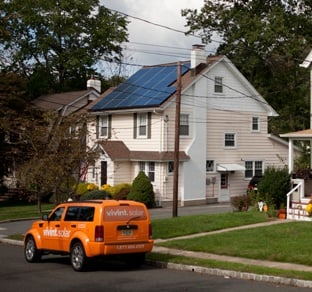 US-based residential PV provider Vivint Solar and financing firm Renovate America are partnering on a scheme to help US homeowners get access to rooftop solar.
Renovate America is a leading provider of residential Property Assessed Clean Energy (PACE) financing. Vivint is now offering Renovate America's Home Energy Renovation Opportunity (HERO) program, which also helps finance solar and energy efficiency systems, as its PACE financing option.
Homeowners will be able to use HERO financing to purchase Vivint Solar systems and pay for them over time through their local property taxes. Payments are made at a fixed interest rate for terms of 5-20 years, and the interest on the payments may be tax deductible. Meanwhile, should the original residents move out of the property, any remaining balance on the assessment may transferable to any new home owners.
Vivint is now rolling out the HERO Program throughout California. Both companies are also working with state and local governments to expand their product offering nationwide.
Thomas Plagemann, executive vice president of capital markets at Vivint Solar, said: "We are excited to work together with Renovate America to provide this innovative solar financing product that will make solar available to a wider range of consumers, including those who either do not have the upfront capital for a solar energy system or for whom traditional loans, Power Purchase Agreements or Solar System Lease Agreements are not viable options."