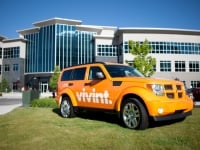 US-based residential PV provider Vivint Solar has closed US$811 million in debt financing through two separate transactions.
The first is a capital markets issuance by the company's subsidiary, Vivint Solar Financing, for a total of US$466 million. In addition, Vivint Solar Financing IV issued a private placement of US$345 million.
These two financing transactions will be utilised to both repay in full and cut down on the balance of certain debt facilities of Vivint Solar and its subsidiaries for general corporate purposes.
The US$811 million total will also provide back-leverage financing for a portfolio of 16 tax equity funds and a subsidiary that owns a PV portfolio of 575MW and over 86,000 residential PV systems.
In total, these transactions lower Vivint Solar, Inc.'s blended total credit spreads by approximately 160 basis points.
Thomas Plagemann, Vivint Solar's chief commercial officer and head of capital markets, said: "We are pleased to announce this new milestone in the evolution of our financing strategy, which optimizes and simplifies our term debt structure while allowing us to repay more expensive outstanding loans, increase advance rates, lock in attractive fixed borrowing rates and create incremental liquidity for the business."