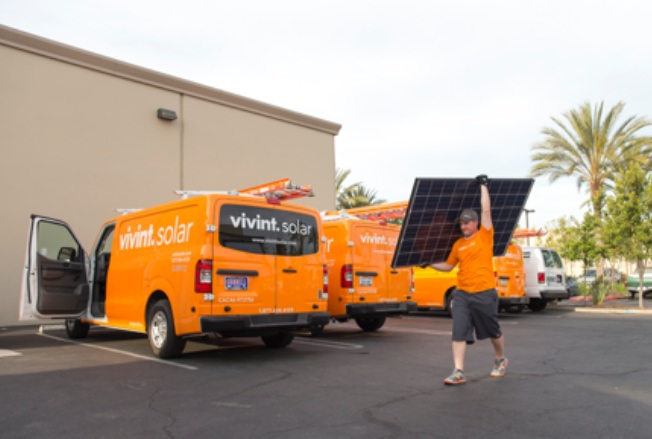 US residential solar installer Vivint Solar has posted a year-on-year increase in revenue, installations and operating losses for the three-month period spanning July to September.
In its quarterly earnings release, the firm revealed that its attributable net loss swelled from US$7.9 million recorded in Q3 2018 to US$13.8 million. Revenues increased 33% year-on-year, from US$77.8 million to US$103.8 million.
The Utah-headquartered company installed 65MW, a 20% increase on the same quarter last year, hitting 1,228MW of overall installations. It expects to install roughly the same amount of capacity in the final quarter of the year.
Two-thirds of Vivint Solar's revenue in Q3 2019 was generated by customer agreements and sales whilst one third came from solar energy system and product sales.
In an earnings call with investors on Wednesday, CEO David Bywater said: "it has never been a better time to be at Vivint Solar."
The company pegs its value at US$2.19 billion, up from US$1.93 billion in Q3 2018. The gross value per watt decreased from US$2.09 to US$1.98.
Baywater noted that the company was gaining traction with its storage offerings in Hawaii and California.
"Although the numbers of customers requesting storage is still low relative to our overall volume, we are seeing a significant increase in customer awareness and have doubled our storage installation sequentially from the second quarter," he said. "Storage is becoming an increasing portion of our business and we believe it will be a material part next year as we expand our scope and efforts."
A portion of Q3's operating losses went to a "one-time expense," broken up between sales and marketing and G&A (general and administrative) related to the settlement of a lawsuit in California, as Rob Kain, vice-president of investor relations, explained on the Wednesday's earning call.
Vivint Solar hit headlines lately when it was accused by short-seller Marcus Aurelius Value of forging customer signatures on direct-to-home sales contracts. The firm rebutted the allegations, which hinge around 28 separate court cases across the US, when approached by PV Tech in late September.
A PV Tech analysis in August showed Vivint's quarterly revenues have stayed above the US$60 million mark since Q2 2017, hitting the highest four-year value – US$90.8 million – in Q2 2019. In that quarter, the firm saw the highest year-on-year roll-out growth of a group of major US residential installers.