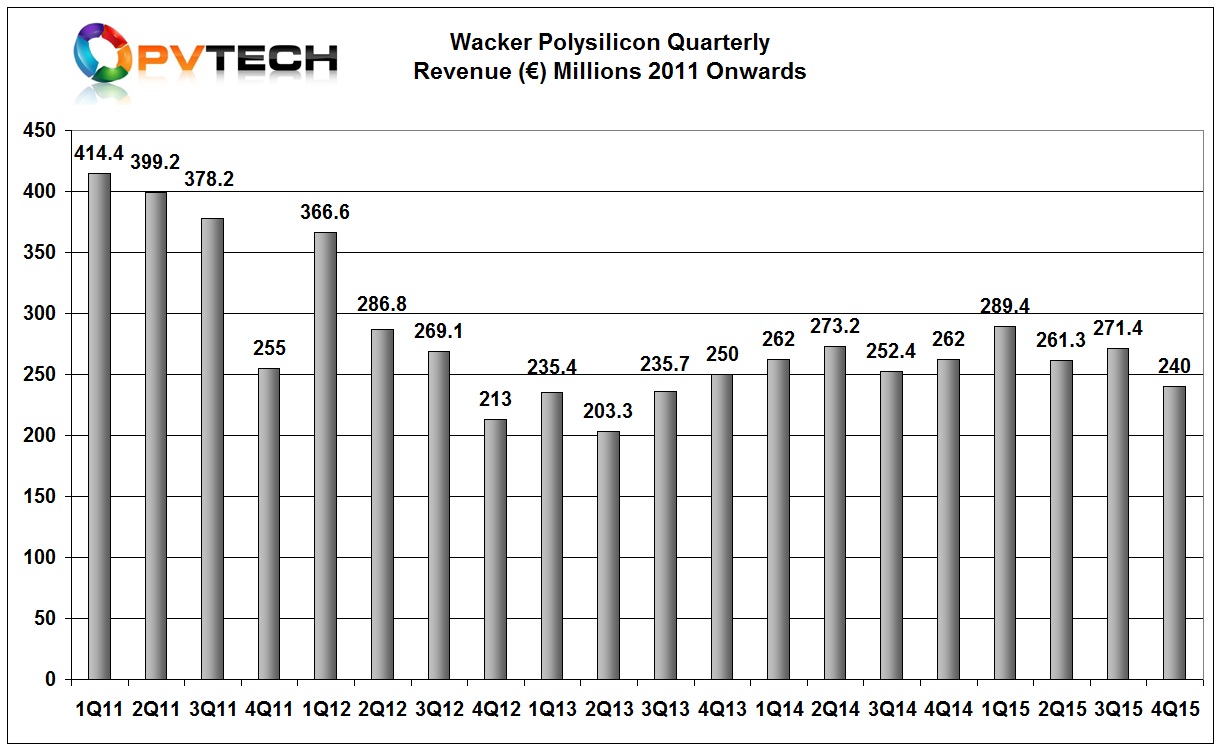 Major polysilicon producer Wacker Chemie said that its new polysilicon plant in the US had started ramping and existing plants remained at full-capacity despite continued price declines that have reached record lows.
Wacker's polysilicon segment posted preliminary total polysilicon revenue in 2015 of €1.06 billion, compared to €1.04 billion in the previous year, while shipping higher quantities than in the previous year.
Fourth quarter 2015 sales were €240 million, down from €271.4 million in the previous quarter and down from €262 million in prior year period, around an 8% decline year-on-year.
Sales in the quarter were boosted by special income of around €28 million, due to advance payments retained and damages received from solar-sector customers, according to the company, though no special income was received in the prior year period.
Wacker noted that EBITDA decreased by 21%, year-on-year to €70 million, compared with €89 million in the fourth quarter of 2014, highlighting ASP decline.
Capacity expansion
Wacker's new 15,000MT plus polysilicon plant in Charleston, Tennessee was expected to start production sometime in the second-half of 2015, later revised to year-end.
Wacker's capital expenditures amounted to €835 million in 2015, primarily focused on completing the new polysilicon site in Charleston.
Coupled to cost reductions and production improvements at its Burghausen and Nünchritz sites in Germany, Wacker should be able to meet a previous target of 80,000MT in 2017, potentially exceeding China-based GCL-Poly as the leading supplier.
GCL-Poly has struggled with liquidity issues through 2015 and has been seeking new funding and selling non-core assets to support further potential expansions both upstream and downstream across the supply chain in 2016. Specific plans for further polysilicon capacity expansions have yet to be disclosed.