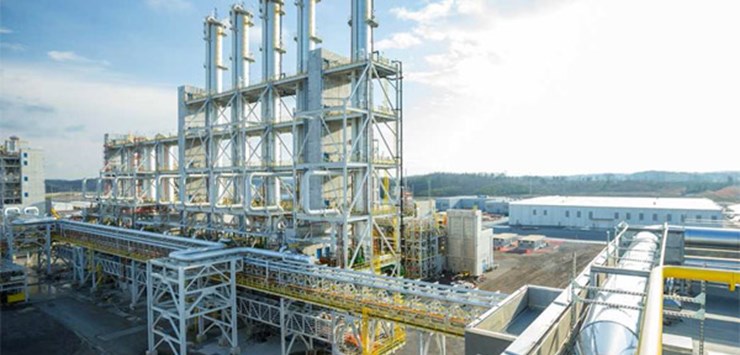 Major polysilicon producer Wacker Chemie has reported its polysilicon division was heavily impacted by the slump in demand due to China's '531 New Deal' as a reason for the sharp decline in revenue and profitability which declined significantly in 2018.

Wacker's polysilicon division reported its worst ever financial results, which included sales of €825 million in 2018, down 27% from the previous year (€1.12 billion).
EBITDA totalled just €70 million, plummeting 76%, compared to the prior year EBITDA of €290 million.
Polysilicon sales in the fourth quarter of 2018 were a new record low of €165 million, after setting a record low in the third quarter of 2018.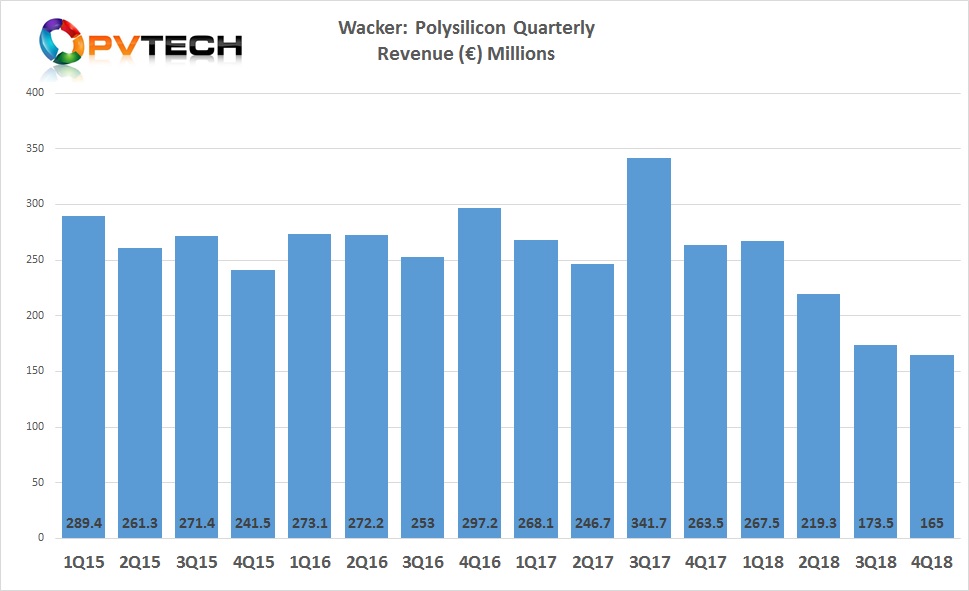 EBITDA in the fourth quarter of 2018 turned negative to €21 million, compared to a positive EBITDA of €4.3 million in the previous quarter, then a record low.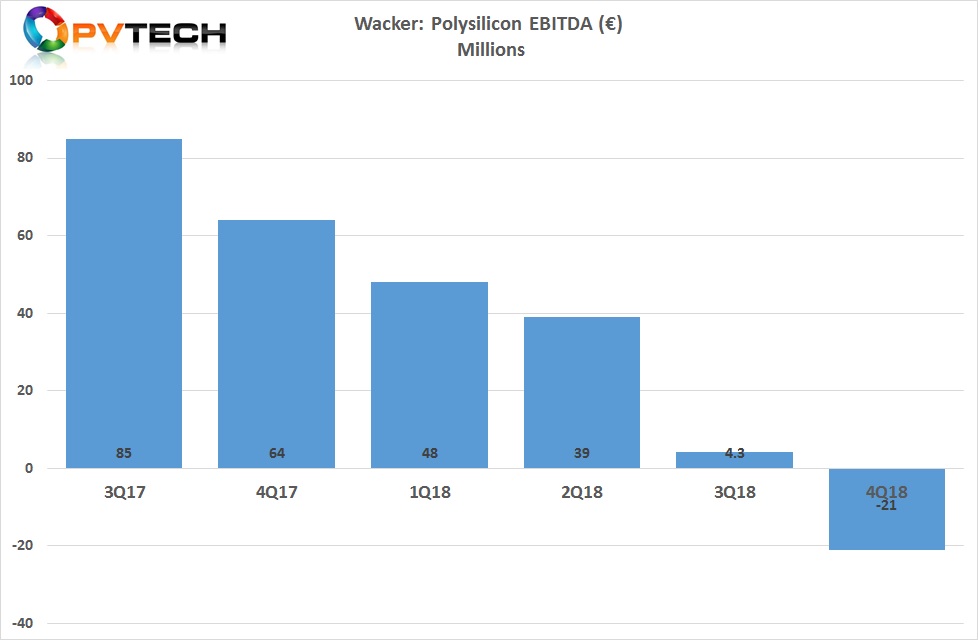 "Our chemical business – which we are expanding through investments – continued its very robust trend in the final quarter of 2018," said CEO Rudolf Staudigl. "Sales and EBITDA in chemicals were markedly higher in the fourth quarter than in the comparable year-earlier period. WACKER POLYSILICON's performance, on the other hand, was dampened by persistently difficult market conditions in the solar industry and by business interruption costs at our Charleston site. We returned to full capacity there in early December 2018. But, as a result, there was not enough time left to conclude our talks with the insurer for fiscal 2018. We continue to expect that insurance compensation will fully cover the repair work at the site and the business interruption loss. We expect this during 2019."
Wacker management had previously attempted to paint a better picture of business conditions for its polysilicon division, despite the impact from China's 531 New Deal.
However, polysilicon market conditions has been exacerbated by a major wave of polysilicon production expansions in several regions, not least in China as it pursues a strategy to become self-sufficient in 2019 as well as the shift from mainstream multicrystalline wafers to high-efficiency monocrystalline, which requires higher purity polysilicon, which has been the main focus of capacity expansions, undermining Wacker's position.
ROTH Capital financial analyst, Philip Shen had previously noted that he expected polysilicon production to increase around 32% in 2019 to 520,000 MT, while global demand was expected to increase by only 5-10%, indicating that the industry may be oversupplied by as much as 120,000 MT.
According to Finlay Colville, Head of Research at PV-Tech the demand for polysilicon is also being impacted by the pace and scale of the shift to high-efficiency mono wafer/cell production that would continue to reduce polysilicon consumption per wafer that was set to be below 3g/W by the end of 2022.
Wacker in contrast has been running its polysilicon plants at high utilisation rates and stockpiling, while continuing to ramp its plant in the US back to full-capacity through the end of 2018, in anticipation of a demand recovery.
However, a global demand recovery in polysilicon consumption, due to overcapacity is heavily dependent on high growth rates in PV installations.
Wacker is not alone in operating in a challenging environment. Recently, major rival GCL-Poly issued a profit warning for 2018.
The company had said that its consolidated loss attributable to owners of the company's shares would be in the region of approximately RMB 534 million (US$77.8 million) for the first 10-months of 2018, while noting that It expected that the operating performance of the Group for the full-year 2018 would decline substantially when compared to profit of around RMB 1,974 million (US$287 million) in 2017.