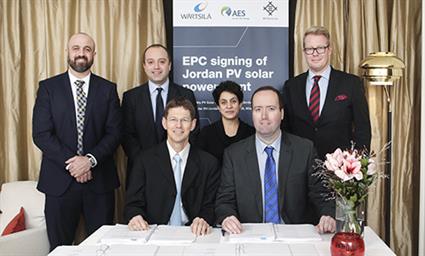 Wärtsila has signed off on an EPC contract that will see the company provide services for a 52MW PV project in Jordan. The installation is owned by AM Solar BV/Jordan, a joint venture between AES Jordan and Mitsui & Co.
This stands as the first utility-scale PV project signed by Wärtsilä globally. National electric Power Company (NEPCO) is the offtaker of the plant and will be tasked with the construction of the interconnection facilities.
The 52MW plant will be developed near IPP4, a 250MW Wärtsilä-built Smart Power Generation plant, that has been operational since 2014. The construction of the new plant is expected to start in June 2018, with commercial operation expected to take place in July 2019.
Pekka Tolonen, director of solar at Wärtsilä Energy Solutions, said: "We expect rapid growth in the use of solar energy, and we are excited to be contributing to a cleaner environment with our solar PV power plant solutions. Wärtsilä's global capabilities in delivering turnkey power plants, our extensive sales and service network, and our vast experience with a customer base across 177 countries enable us to continue to develop innovative new solutions that deliver on the promise of sustainability today."