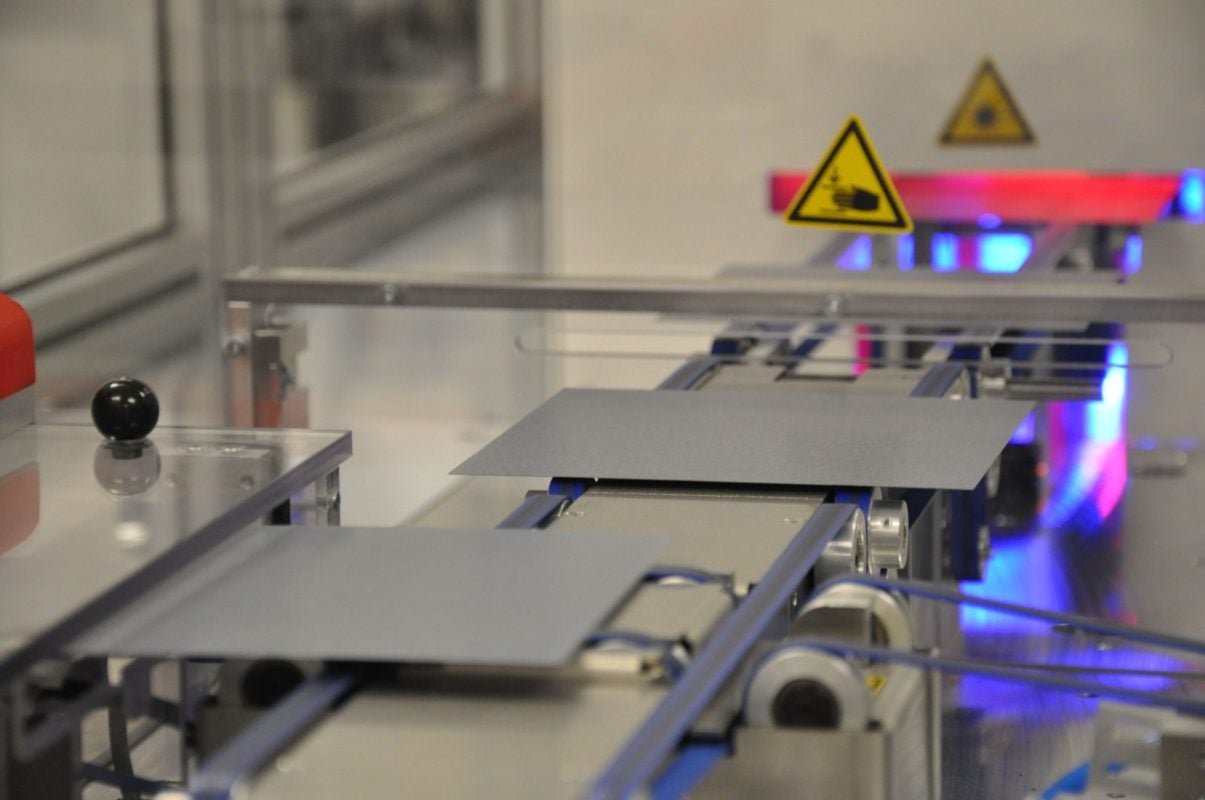 US-Based wafer producer 1366 Technologies and 'Silicon Module Super League' (SMSL) member Hanwha Q CELLS have jointly hit a new record of 19.6% efficiency for cells using 1366's 'Direct wafer' process.
The record, independently confirmed by the Fraunhofer ISE CalLab, was achieved using 1366's kerfless, drop-in 156mm multicrystalline wafers using its 'Direct Wafer' method and Hanwha's Q.ANTUM passivated emitter rear contact (PERC) cell process.
The previous record of 19.1% was achieved by the two firms in November last year.
According to a 1366 Technologies statement, the Direct Wafer process creates multicrystalline wafers directly from molten silicon instead of taking several steps that require more energy and expense. The firm also claimed that its technology can be adopted by 60% of the PV market, without manufacturers having to add any new equipment.
The wafers for the new record cell were produced at 1366's current production furnaces in Bedford, Massachusetts, while the cell fabrication was completed at Hanwha Q CELLS' Center for Technology Innovation and Quality in Thalheim, Germany.
Back In May this year, 1366 Technologies secured US$10 million in funding from private equity firm, Hanwha Investment Corporation, to support the building of its first major production facility at the at high-tech Science and Technology Advanced Manufacturing Park (STAMP) in Genesee County, New York. The wafer producer plans a first phase construction of a 250MW nameplate capacity facility. The funders said that 1366 Technologies had moved from proof of concept to commercial-ready technology in a short period of time.
A 1366 Technologies spokesperson also said: "In a recent head-to-head comparison on the pilot line with standard four busbar processes used in mass production, our Direct Wafer products' solar cell efficiency exceeded that of the high-performance multi (HPM) reference group."
Polysilicon producer Wacker Chemie has also invested US$15 million in the company.
Frank van Mierlo, chief executive of 1366 Technologies, said: "This year we've been focused on mass production trials and, together with Hanwha Q CELLS, we've continued to push the performance limits of multicrystalline cells while dramatically reducing their costs. The Direct Wafer process provides an ultra-low cost option to manufacturers to extend multicrystalline's dominant market position. This latest technical achievement is an impressive demonstration of our wafers' compatibility with new cell architectures that provide long-term differentiation."