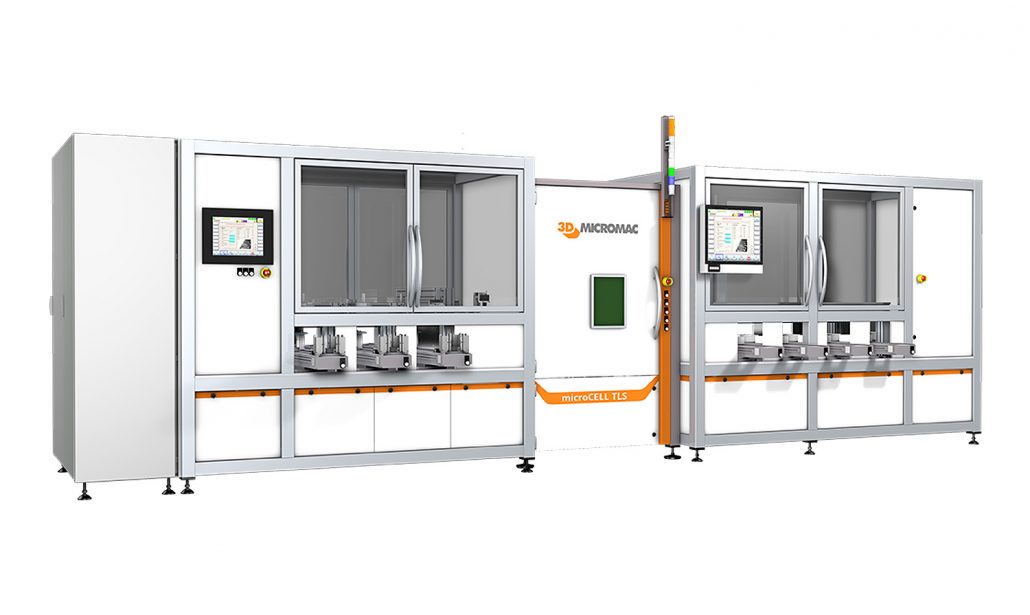 3D-Micromac's 'microCELL' TLS is a highly productive laser system for separation of standard silicon solar cells into half cells. The microCELL TLS meets cell manufacturers demands for retaining the mechanical strength of the cut cells.
Problem
The current solution for the growing industry demand for half cell solutions are conventional laser based scribe and break processes. Ablation is done through half of the cells thickness with subsequent mechanical cleaving. Such process is comparably slow, creates crystal dislocation and micro cracks that lowers the electrical and mechanical performance of the cells.
Solution
3D-Micromac's microCELL TLS enables an ablation free process that its designed to provide the edge quality needed in volume manufacturing. Laser processing on-the-fly and an innovative handling concept enable maximum throughput and yield for crystalline half cells. Simply by a laser induced temperature gradient, a crack is guided at up to 300mm/s through the cell. Without the usual ablation, no dust or crystal defects by re-molten silicon occur. The results are higher efficiency, higher mechanical strength and better performance in module aging tests at highly increased throughput.
Applications
High-volume production of solar cell cutting.
Platform
microCELL TLS can be installed as inline or stand-alone solution by cell and module manufacturers. The tool design allows easy access for operation and service at minimum footprint. One-pass contactless dicing process enables high throughput of > 3,800 wph on a single lane system. Options include a wafer buffer system, MES system and loading and unloading handling to customer specifications.
Availability
May 2016 onwards