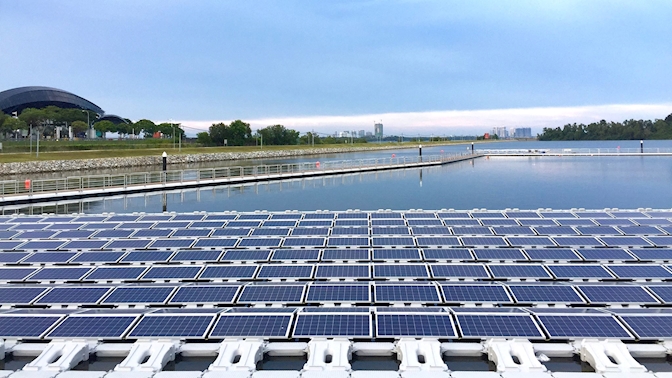 Swedish-Swiss technology leader ABB is partnering with the Singaporean subsidiary of Phoenix Solar for a 1MW floating solar project in west Singapore.
The companies first announced the project in November 2016 when taking part in tests for the plant with the Solar Energy Research Institute of Singapore (SERIS). Phoenix Solar was the installer of the first floating PV system in Southeast Asia and now brings the landmark solar PV test-bed that measures one hectare.
The energy generated from the plant will be fed into the national grid, and will providing enough clean energy to power up to 250 households.
"We are proud to support this important project in Singapore with our technological expertise and domain knowledge," said Tarak Mehta, president of ABB's Electrification Products division. "This project is perfectly aligned with our Next Level strategy around the energy revolution and is an important step in collaborating with partners to bring more renewables into the future energy mix."
Singapore is an ideal location for floating PV, as the country struggles with limited land availability and is surrounded by water. Moreover, floating panels may be 11% more efficient than panels installed on land, according to ABB, as the floating panels are naturally cooled by the surrounding water, which increases efficiency yields.
Located in the Tengeh Reservoir, the installation features multiple solar solutions from providers to study the performance and cost-effectiveness of floating solar platforms. ABB supplied 100kW of its TRIO-50 solar inverters to Phoenix Solar, one of several system integrators for the project. Additionally, ABB claim its low-voltage moulded case and miniature circuit breakers protect the electrical circuits on the water.
In related news, the world's largest floating PV plant in China, with a capacity of 40MW was recently completed.