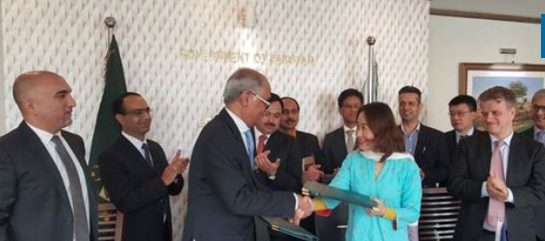 The Asian Development Bank (ADB) will provide a US$260 million loan to the Government of Pakistan to improve the country's power transmission network and help offtake of power from new and renewable energy power projects.
As reported by PV Tech, Pakistan is just a PPA-signing away from utility-scale solar breaching grid parity, while the province of Sindh is due to start tariff-based competitive solar auctions this year.
Werner Liepach, ADB Director General for Central and West Asia, said: "A reliable and strong transmission network is essential to ensure uninterrupted supply of power for the industry and to propel economic growth. ADB remains committed to work with the Government of Pakistan to develop a larger, stronger, smarter, and climate resilient power transmission network."
The agreement is part of the Second Power Transmission Enhancement Investment Program aimed at improving coverage, reliability, transparency, and quality of the power transmission service in Pakistan by expanding the 220-kV transmission network in Sindh and Balochistan provinces and upgrading the supervisory control and data acquisition (SCADA) and revenue metering systems (RMS) in the country.
Upgrading the SCADA and RMS across the national grid will enable real time monitoring and control of the grid, preventing losses, reducing power outages, and increasing grid stability and capacity. It will also feed computerized metering data complying with the grid code into the system for settlement of the market operator, the Central Power Purchasing Agency (CPPA), to streamline revenue collection, billing and payment processes, as well as create the foundation for an energy trading platform.