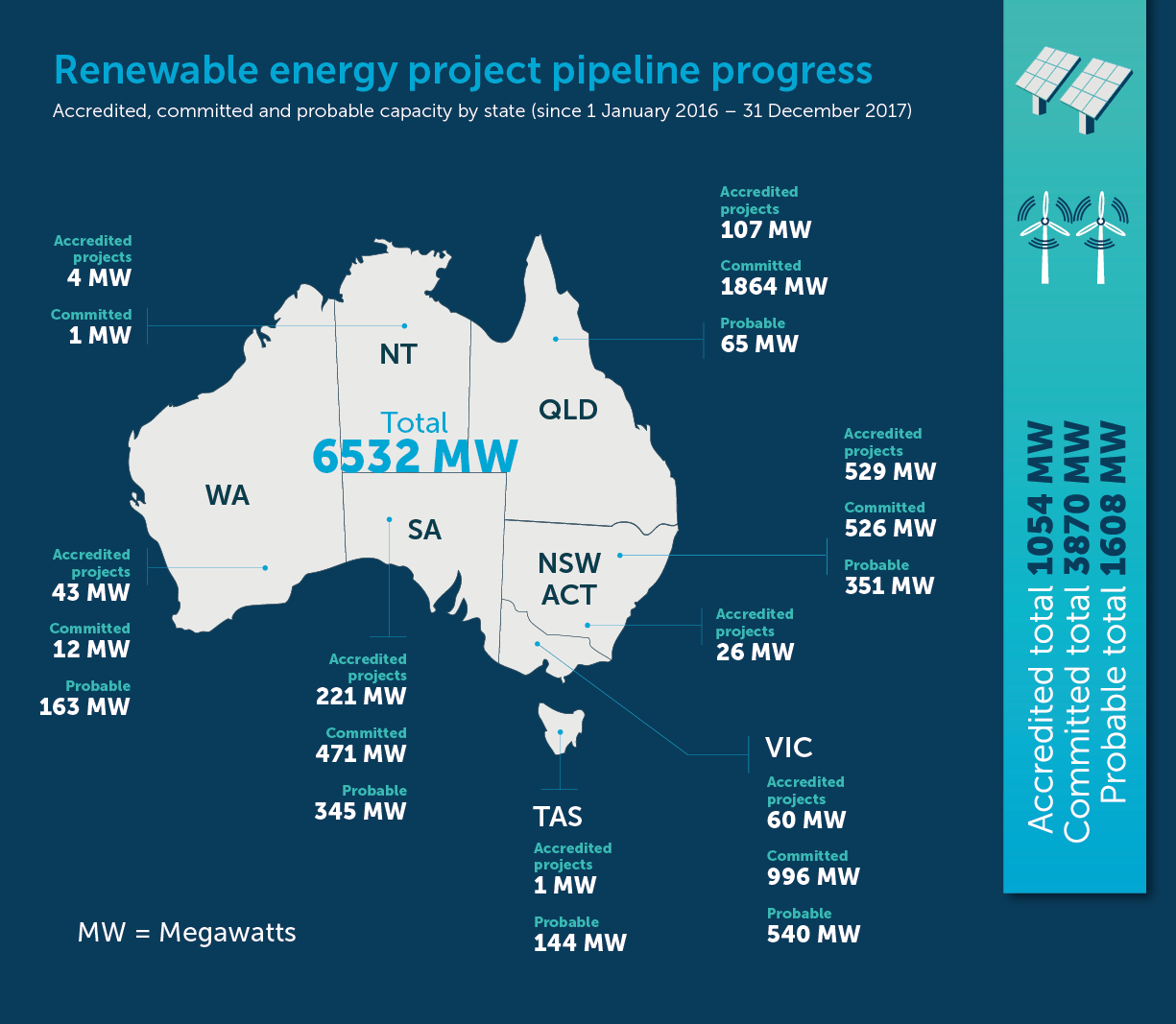 Australia will meet its 2020 Renewable Energy Target (RET) of 33,000GWh of additional generation, according to the Clean Energy Regulator (CER).
CER chair David Parker said: "While announcements started slowly in 2016, the momentum we saw in the latter part of that year continued throughout 2017 and has now reached a level that we believe will be sufficient to meet the 2020 target."
CER had originally calculated that to meet the target, roughly 6GW of large-scale renewables capacity would have to be built between 2016 and 2019, and the nation is already ahead of schedule.
Around 6,532MW of new large-scale capacity has been announced since 2016 (46% of which is solar), with 4.9GW now financed and much of this already under construction or operational. The remainder is set to start construction early this year. There are a further 1.6GW of projects that have power purchase agreements (PPAs) in place that CER expects to reach financial close.
The top three states for deployment are likely to be Queensland, Victoria and New South Wales.
Australia surpassed 1GW of installations in 2017 alone, in what was a record year.
"We expect 2018 and 2019 to be even bigger, with each year having more than double the new build completed compared to 2017," said Parker. "There is still a long way to go on the journey to reach the 2020 target, but we believe it will be met due to the hard work and tenacity of the electricity sector, the renewables industry and those that have financed these projects."
Clean Energy Council (CEC) chief executive Kane Thornton, who described the sector as "on a high", said that analysis for the Federal Government in 2017 showed the average household power bill would be cut by hundreds of dollars a year by the end of the decade as a result of the new projects built under the RET.
He noted that rooftop solar also had a record year with AU$2 billion invested, while large-scale renewable energy projects added up to more than AU$10 billion in private investment. Indeed, Australia had installed a total of 1,778,687 rooftop PV systems, totalling just more than 6.29GW in capacity, as of 1 December 2017.
Thornton said: "We are now looking forward to several really big years of job creation and economic activity as the industry builds out the rest of the RET. The good news is that these wind, solar and bioenergy projects entering the system will help to reduce the power bills of mums and dads, big power users and everyone in between."
Thornton praised the role of state and territory governments, which had helped to provide additional incentives for new renewable energy when the industry was bogged down during an extended review of the RET.
Despite the positive RET trajectory, the Australian industry is still concerned about policy uncertainty after 2020, particularly since the announcement of a much-decried new Clean Energy Target (CET) that is technology neutral.