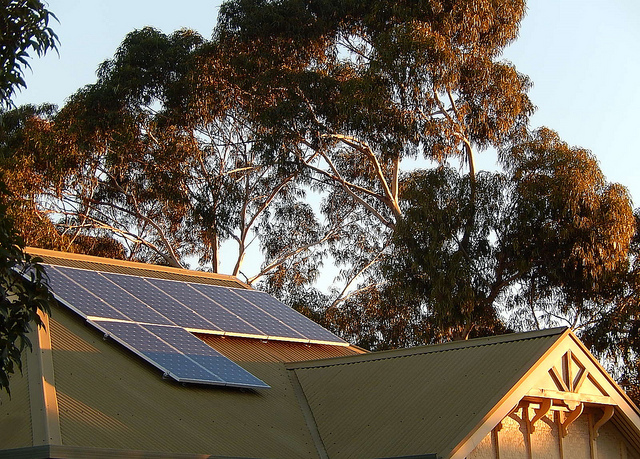 Employment in Australia's renewable energy industry fell 27% from its peak of 19,210 in 2011/12, to a total of 14,020 in 2014/15, according to figures from the Australian Bureau of Statistics (ABS).
ABS reported that the reduction in annual direct full-time equivalent (FTE) employment was influenced by policies put in place by federal, state, territory and local governments. However, Nigel Morris, chief executive at PV firm RoofJuice Australia, told PV Tech that the decline also comes down to increased employment efficiencies in the industry.
Solar energy including rooftop, solar hot water and large-scale continues to hold the largest proportion of employment in the renewables sector, accounting for 8,310 jobs (59%) in 2014/15, although numbers were significantly down from peak employment of 14,350 in 2011/12, reported ABS.
While the states of Queensland, South Australia and Western Australia saw the heaviest decline in renewables jobs in this period, the reductions were not uniform across the country with employment actually increasing in New South Wales, the Northern Territory and the Australian Capital Territory.
Morris said the overall reduction in employment was an inevitable winding back after the surge that came in with peak rebates for renewables in Australia around 2011/12. Furthermore, solar consultancy SunWiz recently reported that Australia's residential solar market could be in a state of permanent decline given that market penetration is already very high and the country's various feed-in-tariff (FiT) subsidies are steadily beginning to expire this year.
While Australia has the highest penetration of rooftop solar in the world with 19% of suitable private dwellings equipped with a PV system, this penetration also varies noticeably across states and territories. ABS therefore claimed that there remains considerable scope to increase the number of rooftop systems in the country.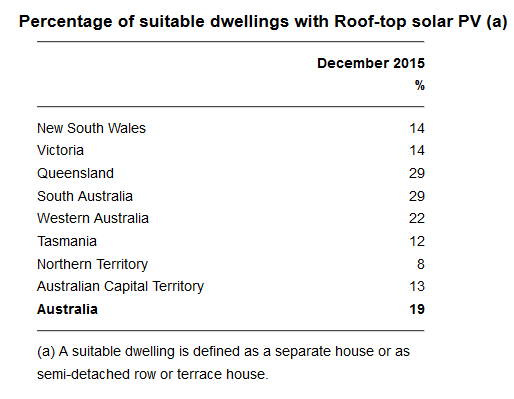 Morris said there has also been a change in the efficiency in employment in the industry, with the number of people employed per megawatt installed decreasing as the industry becomes more efficient and learns to "do more with less".
He added: "So even though we employ a far greater number of people than the traditional generation industries per megawatt installed, we've also managed to improve that over time, which is necessary and to be expected."
As a result, Morris also expects the downward trend in employment to slowly but steadily continue.
Secondly, Morris noted: "The industry's size is directly proportional to policy and policy has been working against the solar industry for some years now."
Echoing calls from campaign group Solar Citizens for more action rather than rhetoric from the new prime minister Malcolm Turnbull, Morris said there has been no improvement for the renewables industry since the "more sympathetic" minister came to power last year.
The turning point for renewables employment also came after the market peak in 2011/12 when the Renewable Energy Target (RET) was at its most generous to the industry. The 14-month debate over the setting of the RET up to June last year also continued to hold back investment in the industry and financing challenges have continued to the present day.
Referring to a report released by Australia's Energy Networks Association this week, which called for the RET to be abolished, Morris said: "What we saw this week was a quite unexpected and vitriolic attack by the networks once again on the RET.
"It [was] a transpaarent, stupid and wholly self-serving argument to raise that has no mileage with consumers."
Claire O'Rourke, Solar Citizens national director, also cited policy as a major barrier to the industry.
She said: "The Australian renewable industry is still being held back by uncertainty over government policy and investment.
"The bill seeking to abolish the Clean Energy Finance Corporation is still in play – it is a potential trigger for a double dissolution election but more importantly creates uncertainty for the orderly development of renewable energy technologies and projects.