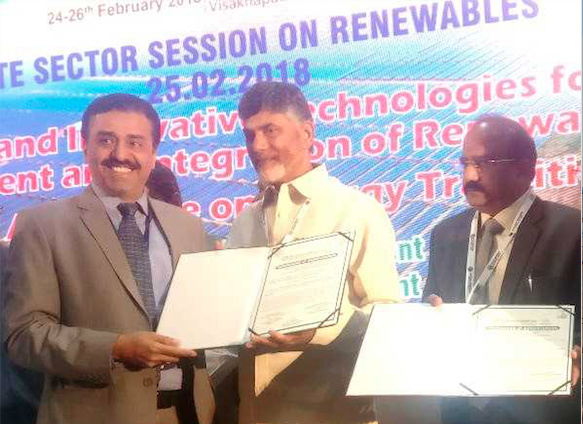 Indian solar developer Avaada Power has further staked its claim on the Indian PV market by signing a memorandum of understanding (MoU) with the Andhra Pradesh government to develop 500MW of utility-scale PV projects, with an investment of INR35 billion (US$537 million).
The firm said that the projects in the South Indian state would be able to power the equivalent of 2.4 million households and generate more than 1,200 employment opportunities.
The government of Andhra Pradesh, which is one of the leading Indian states in terms of renewables deployment, has set a target to achieve 18GW renewable energy capacities by the year 2021-22.
Avaada Power only last week also inked an MoU with the government of Uttar Pradesh for another 1.6GW of projects, requiring US$1.55 billion investment.
In a release, Avaada Power has also announced that it is focusing on projects outside India, across Africa and Asia – a trend that has been seen among many of the top Indian solar firms over the last year.
Vineet Mittal, chairman Avaada Group, who was founder of Welspun Energy and formerly chairman of Indian solar pioneer Welspun Renewables, said: "We are making significant investments in innovative clean energy solutions with a focus on solar and wind energy sectors. The company has set a target of achieving 5GW capacity in the next four years. With this, we aspire to play a pivotal role in meeting the increasing energy needs reiterating our commitment towards delivering clean and sustainable energy to all."