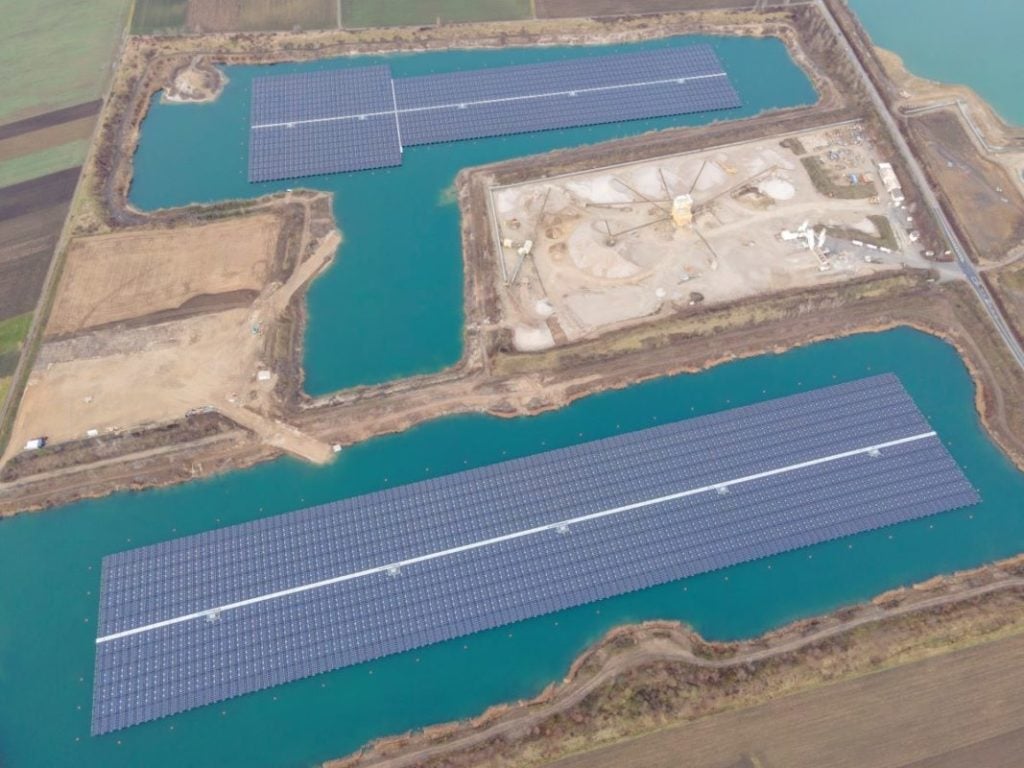 Germany-based renewables company BayWa r.e. has completed the construction of a 24.5MW floating solar PV (FPV) plant in Grafenwörth, Austria.
The FPV system was built on the water surface of a former sand and gravel pit on two lakes. The 24.5MW system measures around 14 hectares and is the largest of its kind in Central Europe, according to the German company.
BayWa r.e. is part of the larger BayWa group which is active in trading, logistics and services within the agriculture, energy and building materials markets.
Construction of the project started last November and saw 45,304 solar modules installed in ten weeks. It was built by renewables developer ECOwind, a subsidiary of BayWa r.e., and Austrian utility EVN.
Johann Janker, managing director at ECOwind, said: "In Grafenwörth, the challenge was to drive approval procedures and regulations for this new PV technology in Austria and to ensure a safe construction – which we managed even with a level difference of 7m between the mounting surface and the water."
BayWa r.e. continues to expand its portfolio of FPV projects in Europe after it commissioned two projects in the Netherlands with a total capacity of 71MWp in 2021.
Research on the fish population and examination of the local dragonfly fauna will be carried out in the coming years to ensure the project's integration with the surrounding ecosystem.
Benedikt Ortmann, global director of solar projects at BayWa r.e., said: "With this turnkey Floating-PV project, we have brought incremental improvements to our already cutting-edge systems in the Netherlands."
With this latest project in Austria, BayWa r.e. has installed 15 FPV projects globally with a total capacity of 230MW.