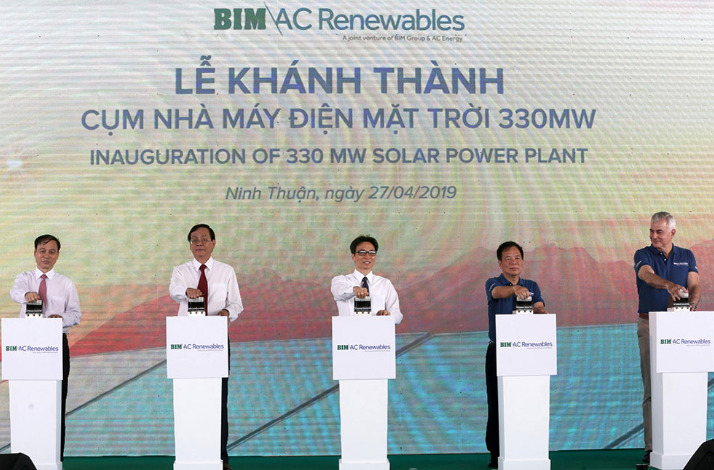 Vietnamese company BIM Group and Filipino firm AC Energy have completed and connected to the grid 330MW of PV capacity spread across three projects in Ninh Thuan, Vietnam, with one 250MW plant being the largest solar installation in Southeast Asia to date.
Work began on the projects in January 2018 and took around nine months to complete, with a power purchase agreement (PPA) being signed with monopoly utility EVN at the end of last year. Grid connection for the BIM 1 (30MW), BIM 2 (250MW) and BIM 3 (50MW) solar power plants took place earlier this month.
Rivalling these projects, a Thai and Vietnamese partnership are also working on a 420MW plant in Tay Ninh due for completion in June.
Collectively, the BIM plants required VND7,000 billion (US$301 million) investment. They will provide power to the equivalent of 200,000 households, producing 600 million kWh annually.
BIM Energy and AC Energy of major Filipino corporation Ayala Group had established a joint venture to develop renewable energy projects in Ninh Thuan Province. This province has high levels of irradiation but has also been subject to fears about grid and transmission capacity given the high concentration of solar plants being developed there. This is why the Ministry of Industry and Trade (MOIT) recently updated its next feed-in tariff (FiT) rules incentivising developers to set up projects in less sunny parts of the country and spreading the load.
However, BIM also owns what is said to be the largest Salt Industrial Economic Zone in Southeast Asia across ​​more than 2,200 hectares in Ninh Thuan.
Doan Quoc Huy, vice chairman of BIM Group, general director of BIM Energy Renewable Energy, said: "BIM Group oriented to become the leading pioneer investor in renewable energy in Vietnam to 2022, the total clean energy capacity supplied by BIM Energy will reach a total scale of 1,000MWp of solar and wind power. With the inauguration of a cluster of three plants with the largest capacity in a short period of time is a testament to BIM Group's long-term commitment to clean energy. We look forward to contributing and joining to protect the environment, fight climate change, support national energy security, build sustainable energy sources for the country's future."
BIM said that it will continue to work with partners including EPC providers France's Bouygues Energies of France, and Germany's juwi, which announced it had bagged a contract for 30MW and 50MW plants from BIM last October.
AC Energy is also working on 80MW of PV power plants in the provinces of Khanh Hoa and Dak Lak.
Last week, JinkoSolar said it had supplied 100MW of its modules to the Srepok 1 and Quang Minh Solar Power Plant Complex, which also stands as one of Vietnam's largest solar power projects.
More details on the updated Vietnamese draft FiT rules can be found here.