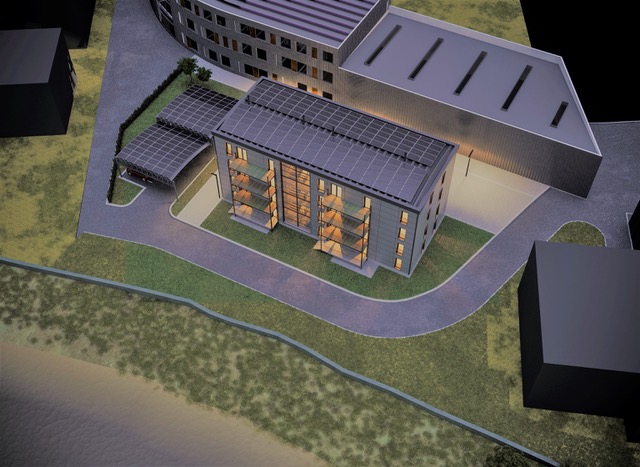 Renewable energy company Welink has announced a joint venture with Your Housing Group – claimed to be valued at £2.5 billion – which could see the development of 25,000 solar-powered homes in the UK each year by 2022.
The JV will be assisted by China National Building Material (CNBM) and will incorporate Barcelona Housing Systems design practices for rapid deployment. The modular, energy efficient homes will also incorporate BIPV solar solutions, which Welink said would help lift tenants out of fuel poverty.
Aimal Rahman, chairman of Welink Group, said that "radical innovation" in building practices and modular housing would address a shortfall of housing in the UK.
"This joint venture will give a significant kick-start to delivering the new homes people need across the UK which includes helping to address fuel poverty issues through our incorporated solar and energy efficient design – meaning our developments can be at least 75% off-grid," he added.
As well as providing financial support for the project, CNBM has committed to build six factories across the UK which will help develop components needed for the housing. Those factories are expected to support more than 1,000 additional jobs and also improve local supply and delivery chains.
International trade minister Greg Hands welcomed the arrangement, adding: "This is a clear endorsement of the UK's attractiveness as a place for inward investment. This announcement has the potential to benefit local communities across the country, creating jobs, boosting local economies and creating homes.
The Department for International Trade has worked closely with the consortium to highlight the strengths of the UK and played a fundamental role in bringing together the partners in this exciting joint venture" – International trade minister Greg Hands.
Earlier this year Welink and UK-based solar developer British Solar Renewables signed a deal which it said at the time would see more than 130MW of solar PV deployed throughout 2016, including an initial tranche of 8,000 homes with solar rooftop installations. That deal included the two collaborating on the Shotwick Solar Park – claimed to be the UK's largest solar farm with a private wire connection – and the Swindon Solar Farm, which was later sold to Rockfire Capital.
Stephen Haigh has been selected to lead the JV, which he said would lead the "transformation of the housing market".
"Our announcement is very much about identifying new opportunities and assisting government and other Housing Associations to achieve their housing aspirations as announced in the recent Autumn Statement, such as the £2.3 billion infrastructure fund.
"It is also crucial that we work closely with Local Authorities to create mixed tenure communities to cement our development model as the solution to their house building and development needs," he added.
It's forecast that up to 25,000 homes could be completed within the next five years before production scale is ramped up to cater for demand, with the JV aiming to supply a portion of the UK government's target to deploy 1 million new homes.