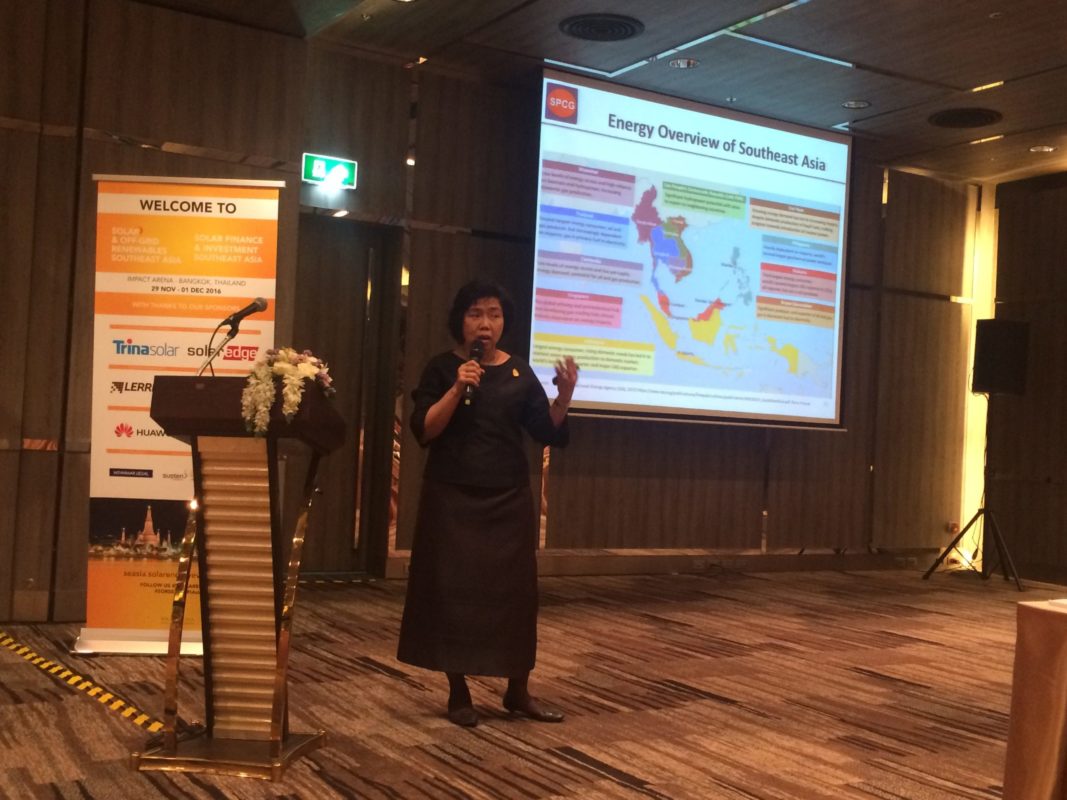 Choosing good quality solar equipment will be essential to keep the solar industry sustainable in Southeast Asia, according to Wandee Khunchornyakong Juljarern, chairwoman and chief executive, SPCG, the largest solar installer in Thailand.
SPCG has invested and developed more than 36 solar farms, with 260MW of PPAs in the ASEAN region.
Speaking to PV Tech at the Solar & Off-Grid Renewables Southeast Asia event in Bangkok, she said that there have been quality issues in Southeast Asia and the market must begin with quality equipment for investors to enjoy high returns in the last 15 years of project life.
She said: "Very important is the strength of the quality of the equipment that you are using, because the payback period is maybe first 10 years. So year 10, year 11, to year 25 is the time for [the] investor to enjoy. So this is the most important thing – to use the best quality and then you will leave the best thing for the next generation to run.
"I want to convince everyone to do the best for your next generation."
Answering questions on how to ensure quality, Anthony Watanebe, chief executive, Asia Clean Innovations, said: "From my experience EPCs here in Thailand say it's hard to deliver quality because what happens is, the PPAs are delivered to people who have relationships and they have no intention of holding onto the projects for the long-term, so they want to get in, build it, sell and get out. obviously that is not aligned or conducive to quality components and quality design.
"Policies coming from government, but also other players in a commercial context – like the lenders for example – are then going to help quality flow back up the value chain right to the design, selection of components and so on. Policy is the starting point."
Market opportunities
Khunchornyakong Juljarern said the biggest challenge for solar in Thailand used to be convincing investors, but this challenge has been more or less cleared up since a large number of installations came online.
Speaking to delegates, she said that the 67 million people of Thailand have an energy consumption of 34-40GW. Whereas Myanmar's population of 60 million has just 3GW, which means there is a great opportunity there for both on-grid and off-grid solar.
Furthermore, the 100 million population of the Philippines has just 15GW generation at present. Local utilities have said that only 12GW of this is working properly so there is another large opportunity for solar.
Thailand itself has gone from almost zero installations in 2010 to targeting 6GW within 20 years.
Khunchornyakong Juljarern said: "The government and the banks already understand how solar works so it's a matter of the feed-in tariff rate or its about the ability of the grid and the cost of project development. So I don't think financing is a problem for solar farms big-scale but off-grid maybe is a bit problematic."
The off-grid sector is more difficult to finance as the consumers tend to have less stable incomes, she added.