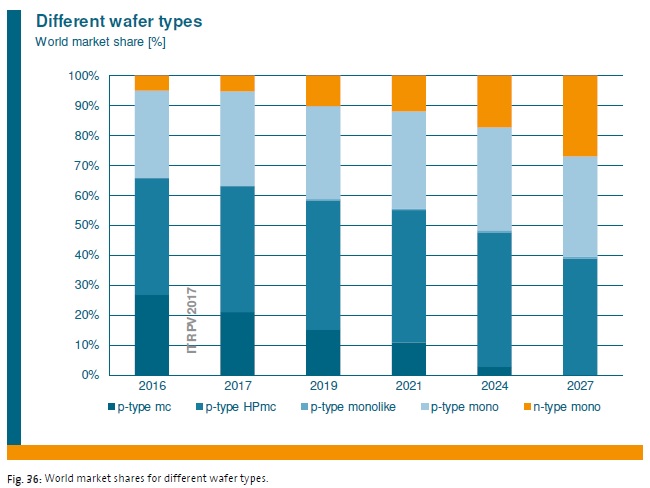 In defiance of a significant trend by a growing number of leading PV manufacturers to either completely replace P-type multi c-Si cell technology with P-type mono c-Si with PERC (Passivated Emitter Rear Contact) technology, or hedge their bets and do PERC on both wafer substrates, Silicon Module Super League member Canadian Solar is placing a potentially risky bet on pushing ahead with the migration to P-type multi c-Si PERC cell technology using diamond wire saw (DWS) and 'Black Silicon' texturing under its 'ONYX' cell branding.
In contrast to PV manufacturers such as SolarWorld and Neo Solar Power that are migrating all cell production away from P-type multi cell technology and adopting P-type mono-PERC to tread a high-efficiency path and a price premium over standard P-type multi and the likes of JinkoSolar and Hanwha Q CELLS shifting several gigawatts of capacity to P-type mono-PERC, Canadian Solar is basically shifting the majority of in-house production to P-type multi-PERC and DWS and Black Silicon.
At the recently held PV CellTech conference in Penang, Malaysia, Giaqiang Xing, VP of technology at Canadian Solar said in one of the key presentations that he believed it was both "conservative and prudent" of the company to pursue P-type multi-PERC with DWS and Black Silicon and that this approach would "instil confidence in multi crystalline after we have seem some jumping boat to another ship."
Capacity expansion update
In reporting fourth quarter and full-year results, Canadian Solar also plans to significantly increase its in-house ingot/wafer capacity in 2017 including the use of DWS and Black Silicon texturing process.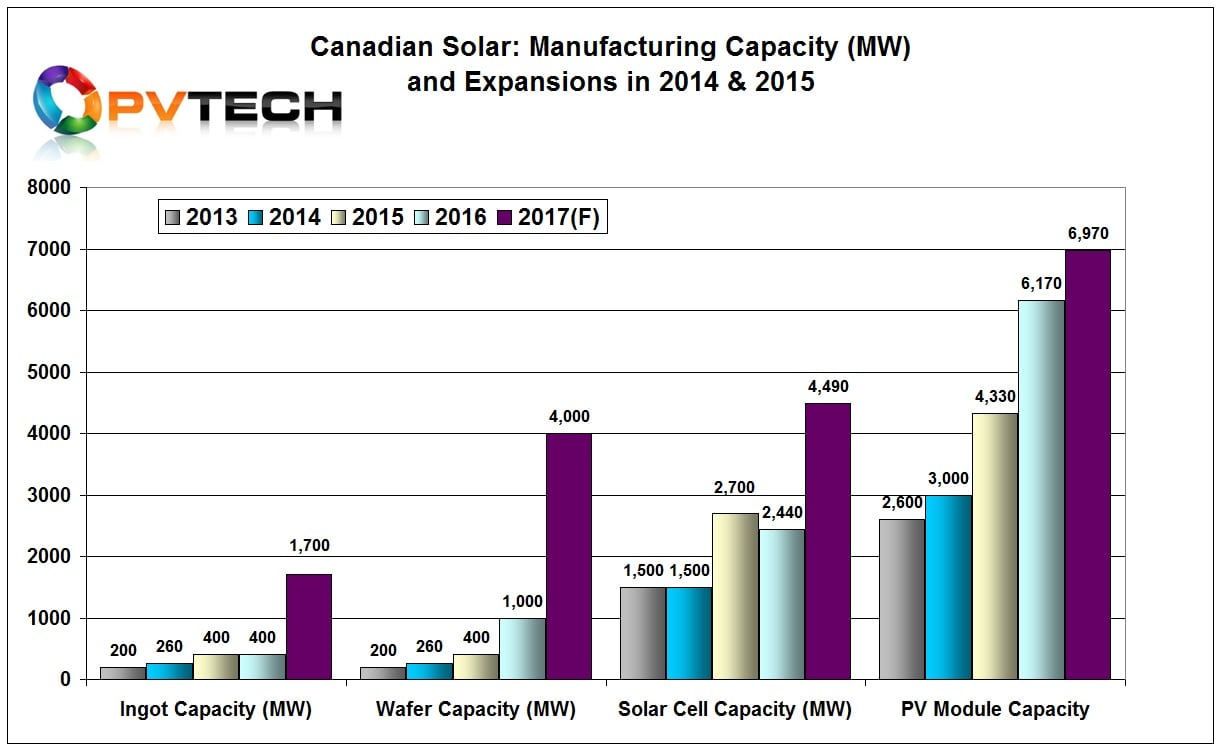 The company noted that its in-house ingot capacity at a mere 400MW at the end of 2016 would be ramped to 1,700MW by the end of 2017. In-house wafer capacity would also be significantly expanded from 1,000MW in 2016 to 4,000MW by the end of this year. Wafer capacity is expected to reach 2,000MW by the end of June 2017.
These specific expansions would enable Canadian Solar to benefit from a PERC transition, providing higher efficiency cells and modules, while reducing silicon kerf losses and manufacturing cost by avoiding the use of slurries with DWS technology.
With respect to its solar cell manufacturing capacity, which stood at 2,440MW at the end of 2016, Canadian Solar said that it had restored production at two cell lines (240MW) at its Funing cell facility in China, which was completely destroyed by a tornado in 2016. An additional 480MW of cell capacity would be ramped in March, 2017, while a further 720MW would come on stream in June, 2017, providing a combined 1,440MW of P-type multi-PERC cell capacity.
Canadian Solar also noted that its newest 850MW solar cell plant in Southeast Asia was completed in February, 2017, with production starting to ramp in March, 2017.
As a result, total in-house cell manufacturing capacity would reach 4,490MW by June 30, 2017. The company noted in a SEC filing that this level of nameplate capacity would remain through the end of 2017. With the completed ramp of its Southeast Asia plant and without further expansions at its Funing facility, Canadian Solar's in-house cell capacity would stand at approximately 4,730MW.
Having given PV module shipment guidance for 2017, Canadian Solar expects shipments to be between 6.5GW and 7GW this year. Therefore, the company is expanding in-house module assembly capacity from 6,170MW at the end of 2016 to 6,970MW by the end of June 2017.
Dr. Huifeng Chang, senior VP and CFO of Canadian Solar noted in prepared remarks for releasing financial results: "All of the equipment we are installing in our new cell factories features the latest production technologies, which gives us further cost and efficiency advantages and the desired capacity customers are seeking, while allowing us to sunset less efficient, legacy capacity."
With its obvious manufacturing commitment to P-type multi-PERC technology, which goes against the recently published latest edition of the ITRPV that was first presented at PV CellTech by Hanwha Q Cells, director of R&D processes, Markus Fisher, Canadian Solar's Xing said in his presentation that by 2019 the PV industry should take note that "I will be reversing the ITRPV chart."