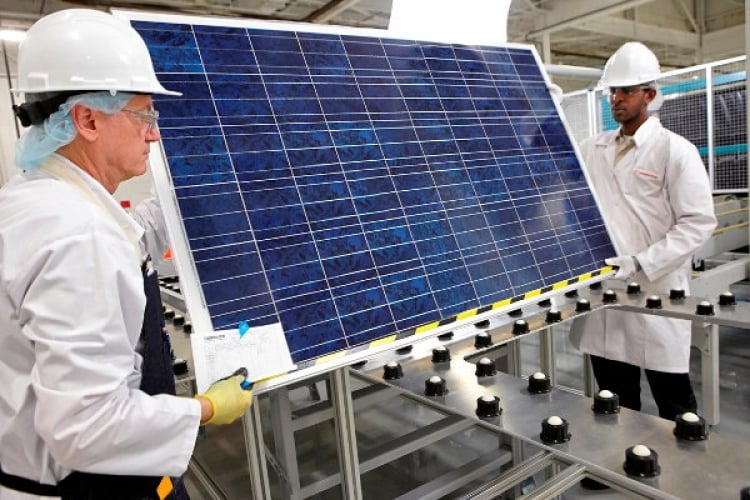 Canadian Solar reported its Q1 2021 results earlier, hitting the top end of its guidance for the quarter with module shipments of 3.1GW and revenue of US$1.1 billion.
But while the company has indeed hit its markers for the opening quarter of the year and posted impressive growth within its energy storage pipeline, the surging price of polysilicon, transportation and other costs are inescapable.
Yan Zhuang, president of Canadian Solar's manufacturing arm CSI Solar, which it is in the process of carving out via an initial public offering (IPO), said the first quarter was "challenging", with significant inflation within its cost base driven by higher raw material and transportation costs on top of foreign exchange fluctuations.
While Zhuang in particular pointed to the price of polysilicon, which he said had tripled over the course of the past twelve months and continues to rise further, however other materials, components and costs, including steel, silver and shipping – which is said to have soared exponentially since the turn of the year – are too having drastic effects on solar manufacturer bottom lines.
In a conference call with analysts, Zhuang was more candid on the polysilicon situation, which he labelled surprising considering that there is more than enough polysilicon supply – roughly 200GW worth – to cater for present end market demand. "The problem is that well over 200GW of wafer and cell capacity is competing for 200GW of polysilicon supply. Meanwhile, we're seeing speculative polysilicon trading activities by intermediaries, which is also contributing to the higher polysilicon price," he said.
In response, Zhuang said the company had raised its module prices by a nearly 20% in Q1 2021 in comparison to prices seen in Q4 2020, which tallies with other reports of price increases heard by PV Tech. Since the middle of last year, module prices are said to have risen by as much as 25%. It is perhaps no wonder then that during Canadian Solar's 2020 full-year results disclosure the company's chief executive Shawn Qu pondered whether solar PV had already reached its lowest price.
Zhuang said CSI Solar's recent price increase is the largest in the company's recent history, however he maintained that the company's utilisation rate remained higher than others in the sector, with reports suggesting some utilisation rates had fallen below 60% in recent weeks.
Zhuang confirmed the company was now prioritising margins over shipment volumes, noting that while underlying demand for solar products remains strong against a backdrop of decarbonisation targets the world over, CSI Solar was seeing increasing price elasticity for its products with utility-scale projects being delayed. In short, developers are only willing to pay so much for solar modules in expectation that prices will drop in the mid- to long-term, however it's clear that CSI Solar will not be dropping prices while its cost base is under such strain.
The reasoning behind this is perhaps best evidenced within the individual segment financial results figures for CSI Solar, provided today and included below:
| | Q1 2020 | Q4 2020 | Q1 2021 | % change Q1 '20 – '21 |
| --- | --- | --- | --- | --- |
| Revenue | US$689.7m | US$784.6m | US$695.2m | +0.8% |
| Cost of revenue | US$527.6m | US$678.4m | US$627.7m | +19% |
| Gross profit | US$162.2m | US$106.2m | US$67.5m | -58% |
| Operating expenditure | US$77.9m | US$103.4m | US$120.1m | +54% |
| Income/(loss) from operations | US$84.1m | US$2.8m | (US$52.7m) | -163% |
Source: Canadian Solar Q1 2021 results disclosure.
CSI Solar's results speak for themselves. The division's cost base has soared by effectively US$100 million, or 19%, in the space of the year, which can only be partially attributed to an increase in output. The division's gross margin has swung from 23.5% in Q1 2020 to just 9.7% in the quarter just gone, while its operating margin has collapsed from 12.2% in the opening quarter of 2020 to -7.6% in Q1 2021. CSI Solar made of profit of US$84 million in Q1 2020, but reported a US$52.7 million loss in Q1 2021.
Further price rises are therefore inevitable, and the company told analysts today that further price increases within its products are expected in later quarters, however the extent to which prices increase further will hinge on a number of moving parts.
Zhang did, however, state that it was important to put price pressures felt today into broader perspective. The cost of solar-grade glass, for instance, soared to such an extent that module manufacturers in China urged the government to intervene, however today the prices have not just normalised, but fallen below prices seen last year.
Such increases are therefore "not sustainable", Zhang said, however the near trebling of polysilicon prices and a 3.5-fold increase in the cost of shipping will continue to place pressures on pricing for the foreseeable future.
While CSI Solar and other manufacturers look to steady the ship as much as possible over the coming months, developers will remain at the mercy of any subsequent waves.