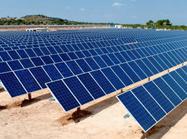 Solar power company Canadian Solar announced that it has agreed to a financial agreement in which Goldman Sachs Japan will establish a US$26 million project finance bond for the 10.2MW Aomori-Misawa solar power plant in Rokunohe-cho, Kamikita-gun, Aomori Prefecture, Japan.
The bond has a maturity of 20 years — including a two-year grace period — as well as a fixed coupon rate of 1.4%. Goldman Sachs Japan served as the bond arranger while Shinsei Trust and Banking acted as the lender.
The 10.2MW plant is expected to commence operations by December 2016. Electricity generated from the project will be purchased by Tohoku Electric Power under a 20-year feed-in tariff at the rate of US$0.32 per kWh.
Dr. Shawn Qu, chairman and chief executive officer of Canadian Solar, said: "We are very proud to announce this important financing arrangement in Japan. In addition to giving us access to a very low-cost source of financing for our projects, this transaction is the first asset-backed security arranged by a foreign sponsor in the Japanese PV sector. In addition, the A investment grade rating is so far the highest for all PV-related project bonds issued in Japan, a testament to the high quality and bankability of Canadian Solar's project pipeline in Japan."