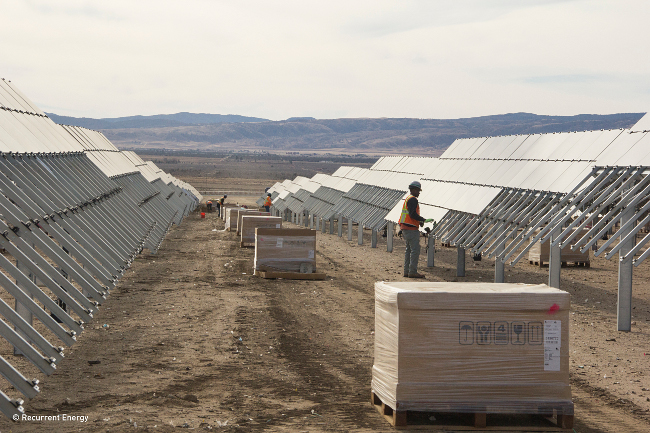 'Silicon Module Super League' (SMSL) member Canadian Solar has retained both PV module shipment and revenue guidance for 2016, despite fears of overcapacity hitting both third party demand and ASP declines as it plans tight inventory control, curtail capacity expansions and use its downstream PV project development business as its overall buffer.
Canadian Solar maintained its guidance for total module shipments to be in the range of 5.4GW to 5.5GW, with approximately 5GW recognized in revenue, primarily as third party module sales. The company also maintained its guidance on revenue at US$3billion to US$3.2 billion.
Responding to financial analyst question in its second quarter earnings call Dr. Shawn Qu, chairman and chief executive officer of Canadian Solar noted that PV power plant sales from its balance sheet portfolio could be sold to meet revenue guidance, should customers delay projects to benefit from falling module prices.
"The guidance, let's say $3.2 billion may include more project asset sales. As we discussed in the past, our solar project asset is our buffer," noted Dr. Qu in the earnings call. "And those are quality assets and we can turn into cash and turn into revenue. So I think if the module ASP strong, let's say maintained at today's level, then, and if we sell some more solar projects, then our total revenue may exceed the current guidance. However, if the module sales [is] not as strong, let's say, if some customer indeed want to wait until Q1 next year, then the project sale will serve as a buffer, which will help us to fill and achieve our current guidance.
Yieldco plans cancelled
The potential move to sell power plant assets is inline with Canadian Solar's decision to cancel plans to establish a publically listed yieldco that had been discussed for over a year as the company built a portfolio of completed projects on its balance sheet that totalled around 472MW at the end of the second quarter with a value of around US$850.0 million, according to the company.
Recently appointed CFO, Huifeng Chang noted in the call: "This decision came after a prolonged period of waiting for a green light from the market, but the market remains unfavourable and now we have decided to move forward to monetize our assets. And I'm happy to report we have made progresses, for example, in July, we signed agreement to sell two projects in China. And meanwhile, we have been taking multiple approaches to monetize our operating assets in other countries, such as the US, Canada and the UK. We are committed to strengthen our balance sheet."
Inventory control
As part of the strategy to weather a downturn, Canadian Solar noted that it was undertaking a tight control of module inventory.
"For example, in Q2, our whole Q2 theme is to control inventory," noted Dr. Qu in the call. "And as a result, you see that we significantly reduced our inventory from Q1 level to Q2 level, so we are prepared for that. [In] some of our past discussions I mentioned that even in the previous downturn, and the worst of quarters, let's say in 2011 or 2012, right? If you don't have inventory problems, if you don't have that, if you buy the material today, making order, a solid order today, you still make money."
Inventories at the end of the second quarter of 2016 were US$309.7 million, compared to US$413.2 million at the end of the first quarter of 2016. Inventory turnover was 51 days in the second quarter of 2016, compared to 58 days in the first quarter of 2016.
Financials
Canadian Solar reported second quarter 2016 revenue of US$805.9 million, up 11.7% from US$721.4 million in the first quarter of 2016 and up 26.6% from US$636.7 million in the second quarter of 2015.
The company reported a gross profit of US$138.5 million, compared US$112.5 million in the first quarter of 2016 and US$96.5 million in the prior year period. Gross margin in the second quarter of 2016 was 17.2%, compared to 15.6% in the first quarter of 2016 and 15.2% in the prior year period.
Dr. Qu also noted that module ASPs had trended down since July, while the sequential increase in gross margin was due to lower module manufacturing cost.
Shipments
Canadian Solar reported second quarter 2016 PV module shipments (recognized in revenue) of 1,290MW, compared to 1,172MW recognized in revenue in the first quarter of 2016. The company had previously guided second quarter guidance in the range of 1,200MW to 1,250MW.
Module shipments included 18.7MW used in Canadian Solar's downstream project business, compared to 24.8MW in the first quarter of 2016 and 90.0MW in the second quarter of 2015.
On a geographical basis sales to the Americas represented 47.6% of net revenue, sales to Asia represented 39.5% of net revenue, and sales to Europe and others represented 12.9% of net revenue, compared to 43.1%, 44.4% and 12.5% respectively, in the first quarter of 2016.
Management noted in the earnings call that that strong market growth was expected in India, Latin America, notably Brazil and that Mexico was a 'bright spot'. Strong market demand in China (20GW) and the US was expected to continue in 2017.
However, management are more cautious over market demand in 2017.
"As long as we are cautious enough and be thoughtful, we build our factories, we should be able to maintain a reasonable utilization rate for our capacities to 2017, 5.8 gigawatts of module capacity we are not going to waste so much of that. But also, as I mentioned, every year, there's high season and low season. In the low season, then for the module, the utilization is now going to be 100%," noted Dr. Qu.