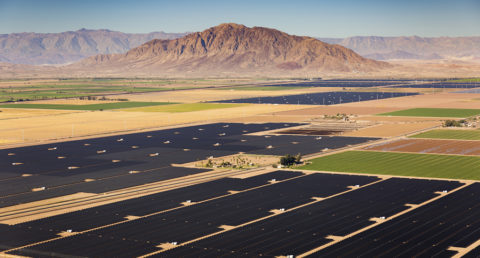 Capital Dynamics is on track to launch a 121MW solar plant in California next month after recently bagging funding for the project.
Contacted by PV Tech, sources familiar with the situation confirmed the Springbok 3 farm is on schedule to initiate commercial operations in June.
The utility-scale plant – one of three at a cluster in the Mojave Desert, to Los Angeles' northeast – was acquired by Capital Dynamics last September.
At the time, the firm explained it would purchase Springbok 3 from IPP 8minutenergy Renewables, which stayed on board to develop the project after completing its Springbok 1 (137MW) and 2 (191MW) predecessors.
The goal, Capital Dynamics added last September, would be to arrange tax equity and debt funding for its new acquisition, with a view to hit financial close during Q4 2018.
Springbok 3 is already supported by a 27-year PPA – plus a potential three-year extension – with the Southern California Public Power Authority.
According to 8minuteenergy, its two predecessors were the first US operational solar farms to beat fossil fuel costs. Together, the trio is expected to cover the power needs of over 152,000 Los Angeles households.
Over the years, Capital Dynamics' clean energy teams have built a 4.7GW infrastructure portfolio via a series of funds. The latest, backed by major pension funds and Abu Dhabi's sovereign wealth fund, closed on US$1.2 billion last August.
The firm, reportedly the US' second largest solar owner, is working to deliver a 2GW pipeline in the US Midwest alongside developer Tenaska. The deal, inked last November, foresees the construction of 14 PV projects in Michigan, Missouri and four other states.