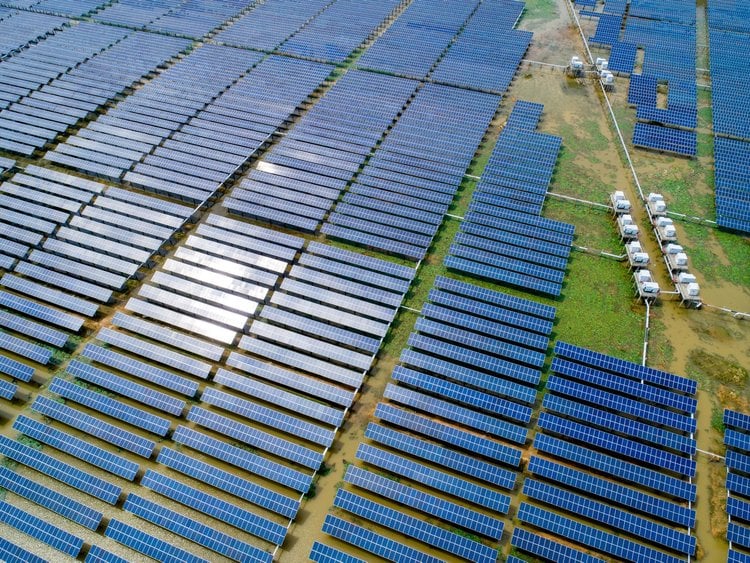 Supply traceability firm Clean Energy Associates (CEA) is experiencing strong demand for its services given the increased need for supply chain transparency and developers' own ESG commitments, its representatives told PV Tech.
Speaking at this month's Intersolar 2022 event in Munich, CEA's senior director of technology and quality, George Touloupas, and its vice president of marketing and sales, Darryl Parker, discussed with this site how its traceability protocol works, the impact of the US anti-dumping and countervailing duty (AD/CVD) case on demand for its services and why module shortages in Europe are not a simple case of lack of supply.  
Transparency protocol
Supply chain traceability has been particularly important in the US following the country's Withhold Release Order (WRO) on all products from Hoshine Silicon Industry and its subsidiaries. But this has now been superseded by the US Department of Commerce's (DOC) decision to investigate whether solar cells and modules assembled in Cambodia, Malaysia, Thailand and Vietnam are circumventing US AD/CVD laws following a petition by small-scale US manufacturer Auxin Solar.
Touloupas says that, with a "high degree of confidence", CEA's traceability protocol can inform companies about their supply chains, where the materials used in their products come from whether they comply with international trade laws and if they are in line with company's internal ESG goals.
The bespoke service, which costs "tens of thousands of dollars", covers all components of a module and is recommended to be updated twice a year. A risk assessment is provided for a company's supply chain that identifies problem areas that pose a potential risk. The risk assessment comes in a numerical value.
"Our traceability audits track and verify where the materials and components come from that go into the module," says CEA. "If we find gaps in a factory's procedures or documents, we bring this to their attention, and they can correct the gaps."
"It's to give you transparency in the supply chain so that you can see from supplier to supplier the origin of all the materials used," says Touloupas. " And we can do that because we do have people on the ground and they are familiar with the factories and actually know how to discuss and talk with the suppliers regarding where things are coming from."
Touloupas notes how Chinese manufacturers – responsible for the vast majority of the world's solar products – are generally open to CEA's investigations and assessments. The pushback happens, however, when company's internal systems are not fit for audit, which is more likely the case for smaller outfits.
Similarly, where there is less data available, the risk increases. A vertically integrated company with clear protocols and data is more likely to receive a favourable score than a company that sources its components from a number of suppliers.
"The risk would be tied to the provenance of the materials but also to the robustness of the underlying system, like the manufacturing system, how good is the recording and logging system," Touloupas explains.
CEA is also working on a carbon footprint tracker for solar products following requests from clients, and is also creating a benchmarking system so companies can set themselves against global averages.
CEA's vice president of marketing and sales, Darryl Parker, is hopeful that the DOC will rule in "favour of the industry" when it comes to the AD/CVD case, a preliminary decision for which is expected in August but which could see a final decision as late as next year.  
Moreover, Parker doubts that the recent attempts to bring PV manufacturing back to the US will be enough to supply the capacities necessary for the country's clean energy goals, pilling even more pressure on the DOC to throw out the case given the bipartisan political pressure currently being applied to the department.
Just last week, more than 80 US House representatives called on US President Joe Biden to expedite the case, while earlier in the month a bipartisan group of senators and governors did the same. Solar Energies Industry Association (SEIA) has warned that the case risks 24GW of PV projects, close to 100,000 solar jobs and US$52 billion in private investment.
And Parker is sceptical it will even have the desired effect of onshoring US solar manufacturing to a sufficient level needed for the energy transition.
"We understand that with some favourable import laws and rules, we might be able to bring some minor manufacturing back to the US," he says. "But when you look at the complexity and the size of the supply chain, to bring it 100% back to the US is going to be a really difficult task without total bipartisan support and a lot of money."
Module shortages in Europe an ESG issue
Elsewhere, Parker says that the difficulty in sourcing modules in Europe is not down to a shortage of supply.
Instead, based on conversations with developers at the event, it is because of their own internal ESG commitments that mean they cannot source products from certain Chinese regions or companies where there have been allegations of forced labour.  
While this would normally not cause too much disruption, the ongoing WRO restrictions in the US mean that those compliant modules have been earmarked for the US market, constricting supply of acceptable modules in Europe.
"So, all of a sudden, the module supply of the desired modules has dried up in Europe," says Parker, adding that "it really isn't a module supply problem in Europe".
Now, however, with the AD/CVD case posing the risk of retroactive tariffs for importers, not even these modules are being sent to the US, meaning an increase of compliant modules could be on its way to Europe, although this is unclear, says Parker.