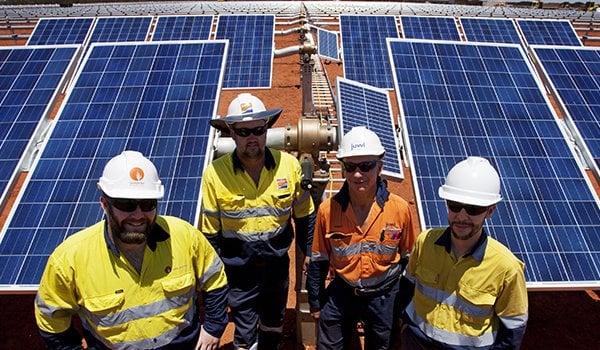 Australia's Clean Energy Finance Corporation (CEFC) has made its largest equity investment in renewable energy, with AU$100 million (US$72 million) in the Australian Renewables Income Fund (ARIF), aiming to encourage institutional investors to further expand their reach into clean energy.
ARIF will focus on proven large-scale wind and solar technologies, as well as emerging opportunities in energy-from-waste, large-scale battery storage and pumped hydro.
The investment in ARIF, which is managed by Australian asset manager Infrastructure Capital Group (ICG), represents an almost 40% increase in the CEFC's renewables equity portfolio, which now stands at AU$355 million.
"It's been exciting to see Australia's renewable energy sector achieve significant growth in recent years, delivering substantial new investment in regional Australia and producing lower cost and cleaner electricity," said CEFC CEO Ian Learmonth. "However, renewables still represent less than 20% of total electricity generation, highlighting the very large investment opportunity in order to deliver a clean energy electricity grid. Our investment in the Australian Renewables Income Fund is about creating new opportunities for institutional investors to take a larger role in our clean energy transition. Through ARIF, investors will have exposure to a broad range of renewable energy technologies, providing attractive options to deepen their exposure to clean energy opportunities."
ICG Managing Director Tom Laidlaw said: "ARIF offers investors access to a high-quality portfolio of operating renewable energy assets and a platform for future growth in the sector. It is a portfolio that has been built over an extended period and is designed to provide investors with a diversified exposure across the sector."
The CEFC has committed more than $2 billion in debt finance to accelerate the development of almost three gigawatts of renewable energy since it began investing in 2013.
In other news, the Australian Renewable Energy Agency (ARENA) has today announced $1 million in funding to Ausgrid to boost its innovative grant program for rooftop solar and energy-efficient lighting.
Ausgrid's program will incentivise and encourage households and businesses to adopt energy efficiency measures such as installing new solar power systems and LED lighting upgrades through selected installers.