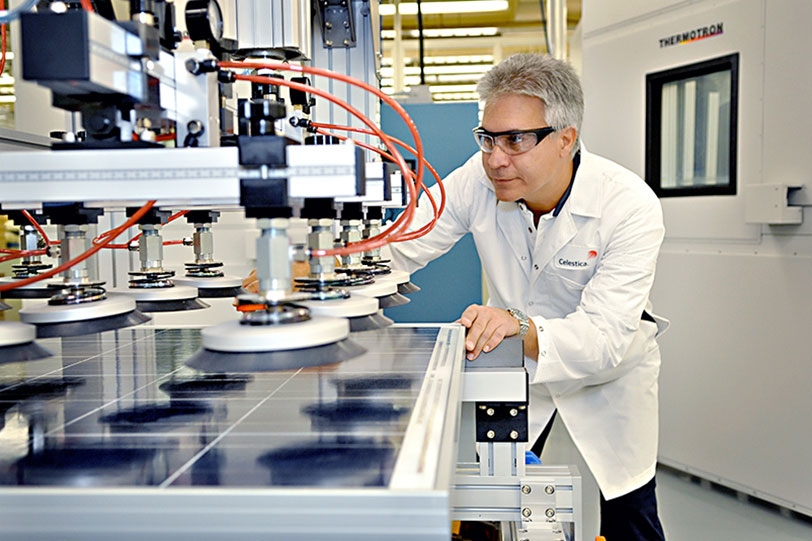 Electronics Manufacturing Services (EMS) provider Celestica said it was winding down solar module assembly operations at its Toronto, Ontario, Canada production plant in the first quarter of 2017.
Celestica management said in its earnings call late last week to discuss full-year financial results that recent module overcapacity and plummeting prices had led to much lower demand from contract customers. A decision to exit solar module production for customers was said to have been made in the fourth quarter of 2016.
Darren Myers, CFO of Celestica said in the earnings call, "The recent oversupply of solar panels in the market and unprecedented declines in market pricing have, slowed demand. Although we can't predict the duration of the market instability we expect the downturn to be prolonged and that the changes in the market will negatively impact the future profitability of our solar panel manufacturing business. As a result we made a decision to exit this business in the fourth quarter which resulted in restructuring charges of US$21 million."
Celestica management noted that revenue from its module assembly operations amounted to around 1% of fourth quarter 2016 total revenue of US$1.62 billion or around US$16.2 million and around US$60 million in 2016.
Manufacturing operations were established in 2011 and had employed approximately 400 people. In 2013, Celestica's solar lab at the Toronto facility had received TÜV Rheinland PTL approval to provide testing services required for the certification of solar modules.