China's polysilicon price finally stabilised this week, according to the Silicon Industry Branch of the China Nonferrous Metals Industry Association, following several long-term contracts being signed, helping to reduce market volatility in the short-term.
The Silicon Industry Branch said that price stability this week was achieved mainly because silicon material companies had sealed long-term orders for the month in the first week of July, and even signed orders for August in some cases.
For the last two weeks of July, there were only a small number of scattered orders, and as a result, there were fewer transactions in the market keeping the silicon price stable, despite fears of prices rising in the future amidst high demand and panic buying.
The price range of mono dense poly chip was RMB286,000-308,000/MT (US$42,340-45,600/MT) and the average transaction price remained unchanged at RMB295,500/MT (US$43,680/MT), according to the data, despite recent price rises and an upward trajectory.
According to statistics, China's polysilicon production in July was 58,500MT, a decrease of 5% month-on-month, and in line with expectations. The top four polysilicon enterprises produced a total of 48,700MT, accounting for 83.2% of Chinese output.
The public notice also showed that during the week of 27 July, China's mono recharging chip price ranged from RMB288,000-310,000/MT (US$42,600-45,900/MT), with the average transaction price being RMB297,600/MT, which was stable compared to the week before
Because of the rising silicon price, China's top four polysilicon companies achieved an eye-watering performance in H1 2022, according to the companies' performance forecasts.
Among them, Tongwei is expected to earn RMB12-12.5 billion (US$1.78-1.85 billion) in H1 2022, a year-on-year (YoY) increase of more than 300%.
While Daqo New Energy expects its H1 net profit to be RMB9.4-9.6 billion, up nearly 350% YoY. TBEA's H1 net profit was RMB6.8-7.2 billion, up by around 125% YoY, and GCL expects its H1 net profit to be RMB6.9 billion yuan, up by 187.5% YoY (see chart below).
| | | |
| --- | --- | --- |
| Name of silicon producer | Net profit posted (RMB in billions) | H1 performance YoY growth (%) |
| Tongwei | 12-12.5 | 312% |
| Daqo | 9.4-9.6 | 340% |
| TBEA | 6.8-7.2 | 125% |
| GCL | 6.9 | 187.5% |
Meanwhile, LONGi and Zhonghuan have both raised the price of their silicon wafer products in line with market dynamics. On 21 July, Zhonghuan adjusted the price of different types of silicon wafers up by RMB0.24-0.41/piece, an increase of about 4%, equivalent to US$3.5 cents/W for cells.
On 26 July, LONGi announced its latest silicon wafer price, increasing RMB0.24-0.25/piece for various sizes, up by 4%. At the same time, the thickness of the 182mm wafer was adjusted from 160μm to 155μm.
And on 25 July, Tongwei's official website published its latest mono crystal cell pricing, showing an increase of US$4-5 cents/W for various sizes.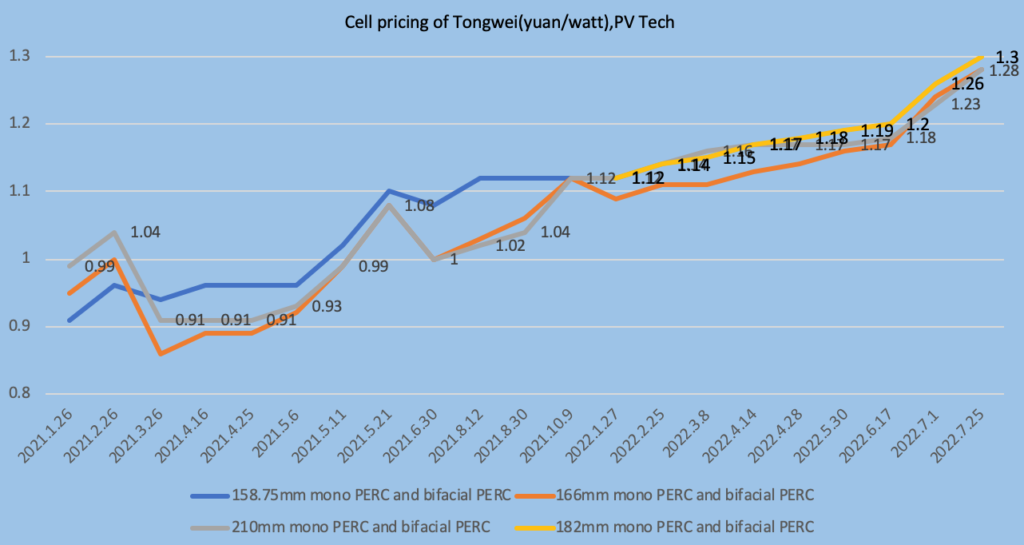 The price of cells after adjustment has almost caught up with the module price two years ago. According to PV Tech, China's front-line mono crystal module price will exceed RMB2.1/W (US$0.31/W).