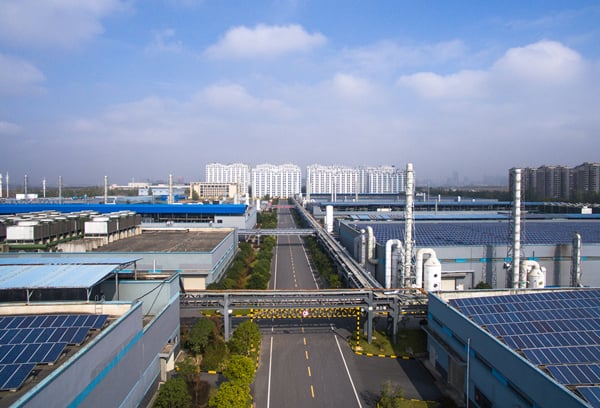 The drive by China-based PV panel manufacturers to shift sales overseas after the impact of China's 531 New Deal in 2018 is starting to make a positive impact on companies starting to guide first half year financial results.
Despite the US trade war, 28.5GW of PV panels made in China have been shipped overseas in the first five months of 2019, according to a new report from EnergyTrend. This is nearly double the 14.68GW shipped in the prior year period, a 92.6% increase.
Companies are being supported by the end of the MIP in the EU and overall global PV demand growth. EnergyTrend also noted that it expected gigawatt-scale end markets to increase from 16 countries in 2018 to 21 in 2019. This is expected to translate into global installs topping 120GW, a 16% increase over installs of 108.2GW in 2018.
Major PV manufacturer, Risen Energy has recently guided net profit to have increased within a range of 279% to 307% in the first half of 2019, compared to the prior year period. The company cited an increase in production of cells and modules for the net profit growth.
China-based integrated polysilicon and the largest merchant cell manufacturer, Tongwei Group has guided net profit was expected to increase in a range of 55% to 65% in the first half of 2019.
During the reporting period, the company's cumulative shipments of solar cells was said to have increased by approximately 97%, year-on-year. This was supported by capacity upgrades and new solar cell plants (Chengdu 3.2GW and Hefei 2.3GW) starting to ramp.
Overall capacity utilization rates were said to have reached 78% in the first half of the year, while current demand meant cell utilization rates were at 110%.
Tongwei also noted that despite the prices for high-purity polysilicon were relatively low, the business maintained profitability. The company is ramping 60,000MT of new polysilicon capacity at its plants in Baotou and Leshan, in 2019.
PV module and major backsheet manufacturer, Jolywood (Suzhou) Sunwatt Co said it expected net profit to have increased in range of 46.15% to 65.74% in the first half of 2019.
Jolywood cited solar cell production line upgrades and the ramping of new production lines for higher profits as greater scale reduced costs, while demand closely matched production.
Zhejiang Sunflower Solar Energy Technology Co, a relatively small PV manufacturer, which has struggled with losses through 2018, noted a net profit range of RMB 2 million to a net loss of RMB 7 million for the first half of 2019. Net loss in the first half of 2018 was RMB 193.6 million.
Sunflower said that it was benefiting from a market recovery and module ASPs had rebounded, while action on long-term accounts receivable were proving successful.