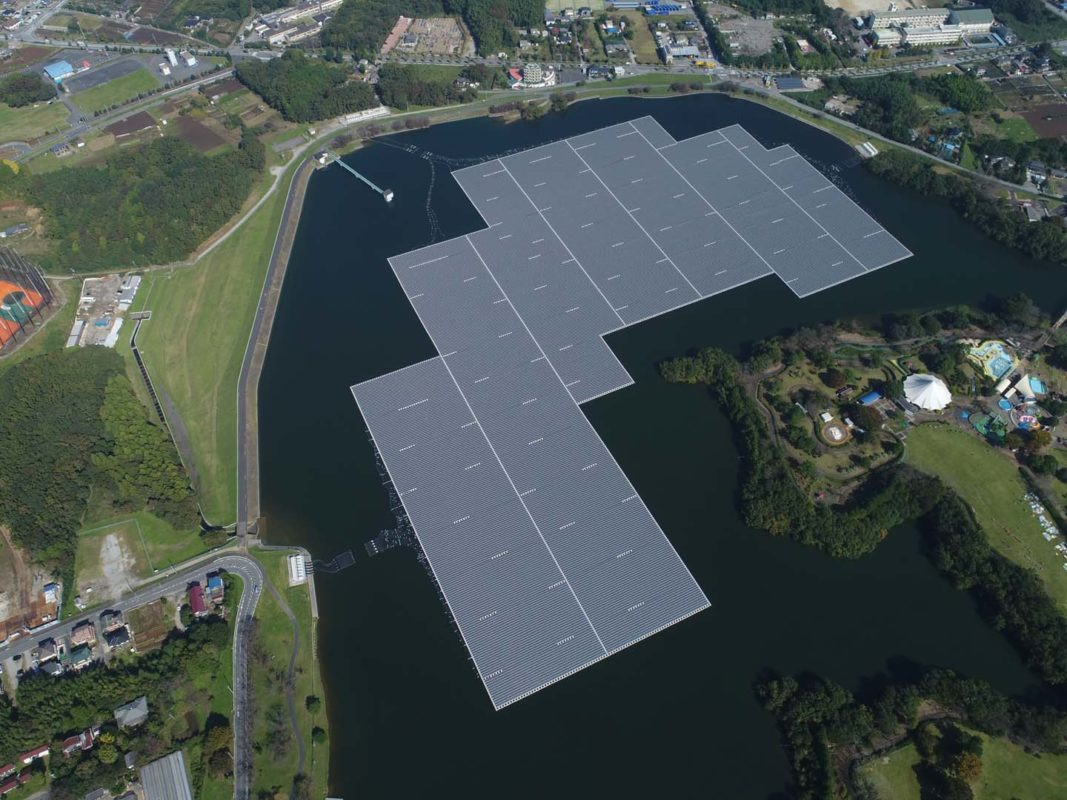 France-based floating solar specialist Ciel & Terre has launched a new subsidiary in the Indian city of Bangalore, a new manufacturing line in Maharashtra, and is set to deliver floats to its first 5MW project in West Bengal.
Stéphane Prouvost, CEO, Ciel & Terre India, told PV Tech that the firm is working on projects spread throughout India, although Bangalore in the southern state of Karnataka is a suitable base given the sizeable tenders coming out of the nearby state of Kerala and other parts of South India.
Prouvost said there are two main markets for floating PV in India. The first is the captive market for commercial and industrial (C&I) customers since India has many conglomerates that own huge water bodies and reservoirs, particularly in heavy industries like steel and thermal power. Power from the grid for such companies comes at more than US$10 cents or 6-9 rupees per unit, whereas floating solar can offer power at less than five rupees.
India also faces high water stress. Some large companies have to import pumped water from hundreds of kilometres away due to restrictions on water use outside of agriculture in certain regions. This is both polluting and expensive, while floating solar is able to significantly reduce the rates of evaporation on these large water bodies due to the cooling and shading effect of the modules on the water.
The second major floating solar market in India is for utility-scale tenders put out by distribution companies (Discoms).
Manufacturing plant
Ciel & Terre's 50MW manufacturing line is now up and running in Aurangabad, Maharashtra, after the company partnered with a local blow moulder. Some of the machinery has been imported to speed up the process and improve quality, while high-density polyethylene (HDPE) has also been imported for the Hydrelio product, the company's trademark floating structure. The firm is already in the process of bringing in more machines to extend the manufacturing line up to 100MW annual capacity.
Having originally seen India as potentially the first major floating PV market in the world 7-8 years ago, Ciel & Terre discovered it was too early, but Prouvost said the market is now up and running with many states pushing for big projects, including Orissa, Tamil Nadu and Maharashtra. The firm also generated many major conglomerate leads when it first came to India, with interest from the likes of Tata, JSW Group and Reliance.
Ciel & Terre tends to open manufacturing lines in any markets where floating PV is installed, since transporting large floats can be costly and manufacturing locally can also drive local employment. The firm also explained to PV Tech last year its new manufacturing focus in Southeast Asia.
5MW in West Bengal
Ciel & Terre will also very soon supply is floats to a 5MW project on a raw water pond at Sagardighi Thermal Power Project, Murshidabad, West Bengal, following a 10MW tender from West Bengal Power Development Corporation Limited (WBPDCL).
The French firm is also in charge of the design of the floating structure. For each new water body, the company has to alter its designs to take into account the shape of the reservoir. It also designs the anchoring system which is affected by the local wind conditions, water level variation and soil computation. The company will also soon start installing the anchoring system at the West Bengal site and there are plans to extend the project to 15MW in size.
International Coil Limited is performing EPC services on this project.
Demand for floating solar technology is growing in India and Ciel & Terre is also in discussion with Solar Energy Corporation of India (SECI) for a 170MW floating PV project at the Rihand Dam in Uttar Pradesh, India's largest dam by volume.
Safeguard Duty effects
While the Indian Ministry of Finance's decision to impose a 25% safeguard duty on cell and module imports will certainly pose a challenge to the overall solar industry, Prouvost said that in a way it can be seen as a boon to floating solar, which is in constant competition with ground-mount PV. Ground-mount is cheaper than floating PV, but a higher overall cost of modules for both technologies under the duties should make the cost difference between both technologies less pronounced.
Nonetheless, any added costs do impact the attractiveness of floating solar, particularly for captive projects, where the customer can directly compare floating solar costs with those of grid power.
However, the case for deploying floating solar on big industrial water bodies is also driven by the reality that many large Indian industries do not have an abundance of available land for ground-mount solar.