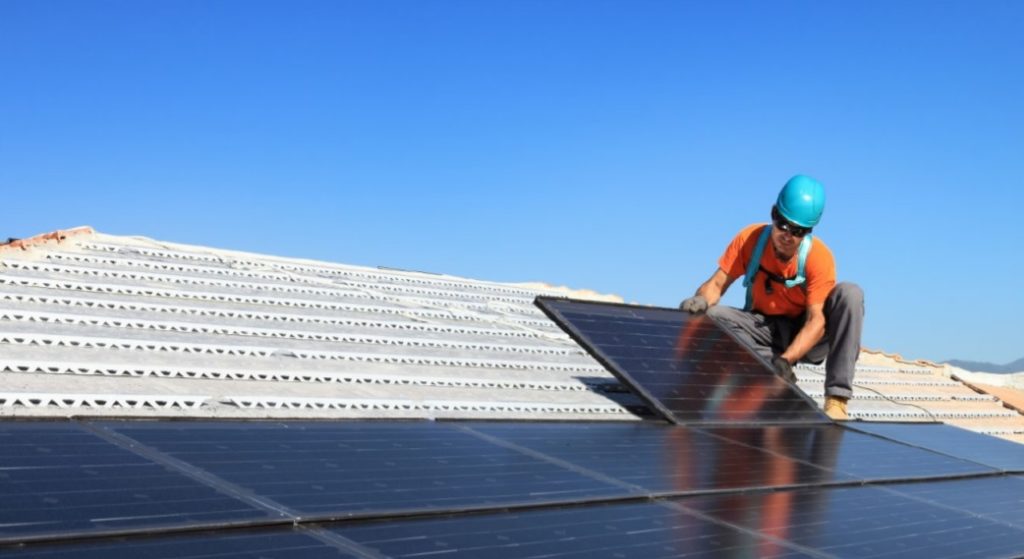 Recently hailed as an 'historic' year for US solar deployment with the publication of the US Solar Market Insight report, jointly published by the Solar Energy Industries Alliance and analyst firm Wood Mackenzie, PV Tech has delved into the deployment and revenue figures of the five major publicly-listed US residential installers in 2020.
Total US solar installations reached around 19.2GWdc in 2020, a 43% increase from the previous year. Once again dominated by utility-scale projects, the residential market reached around 3.1GW, an 11% increase over 2019, but growth slowed compared to the 18% increase seen from 2018 to 2019.
This article requires
Premium Subscription
Basic (FREE) Subscription
Unlock unlimited access for 12 whole months of distinctive global analysis
Photovoltaics International is now included.
Regular insight and analysis of the industry's biggest developments

In-depth interviews with the industry's leading figures

Unlimited digital access to the PV Tech Power journal catalogue

Unlimited digital access to the Photovoltaics International journal catalogue

Access to more than 1,000 technical papers

Discounts on Solar Media's portfolio of events, in-person and virtual
Or continue reading this article for free
The five major listed residential players starting 2020 included Sunrun, Sunnova, SunPower, Tesla and Vivint Solar. PV Tech estimates that total PV deployments for these companies reached around 1.4GW in 2020, compared to around 1.22GW in 2019, a 15% increase year-on-year.
As such, the listed players achieved a small market share gain over other non-listed US residential installers in 2020.
Annual MW deployments
In the chart below we have displayed annual PV residential deployments for Tesla, Sunrun, SunPower and Vivint Solar, beginning in 2016 through to 2020. (Sunnova's IPO was in July 2019 and sadly does not publish MW deployment figures.)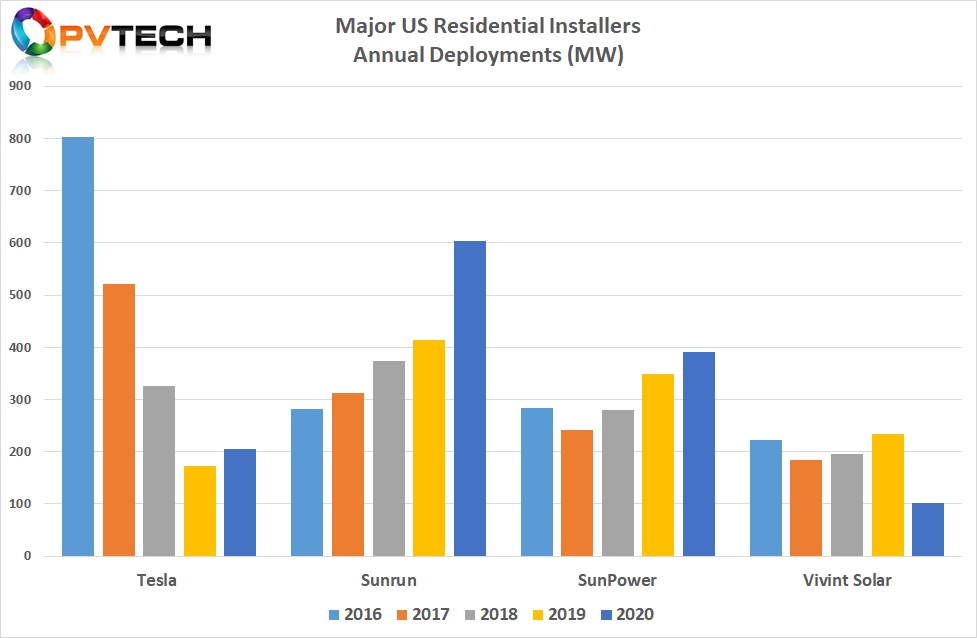 The chart clearly paths the rapid and significant decline in deployments by Tesla after its acquisition of SolarCity. But the decline reached a low point of only 173MW of deployments in 2019, bouncing back to 205MW in 2020, a 19% increase from the previous year.
Sunrun has enjoyed the opposite trajectory through the last five years, increasing deployments at a consistent pace between 2016 and 2019, witnessing deployments rise from 282MW in 2016 to 413MW in 2019.
Sunrun's 2020 deployments were 603MW, a 46% increase year-on-year and enough to set another company record. Although historical growth was expected, the acquisition of rival Vivint Solar completed in the third quarter of 2020, contributing to the jump in deployments, primarily in the fourth quarter.
It should be noted that Vivint Solar stopped reporting financial figures after its second quarter 2020 results. The company had deployed 101MW in the first half of the year.
As the chart highlights, Vivint Solar's deployments proved to be uneven from 2016 through 2019 with the final full year results reaching a peak of 233MW of deployments.
Regular readers of PV Tech may have noticed that the deployment figures for SunPower have been completely revised, due to the company spinning off its manufacturing operations into Maxeon Solar in 2020.
As a result, SunPower updated its deployment categories and produced a new set of figures. It should also be noted that SunPower has included 'small' commercial and industrial (C&I) deployment figures into its residential deployments, something it had not been doing in the past.
As the above chart highlights, SunPower's residential deployments in 2017 and 2018 failed to match deployments of 284MW in 2016. However, after a low point in 2017 of 241.8MW of deployments, the company has returned to meaningful growth since.
In 2019, deployments were 349.5MW, up around 25% from the previous year. In 2020, SunPower achieved deployments of 391MW, up around 12% from the previous year.
Quarterly MW deployments
The quarterly MW deployments (chart below) clearly shows the historically erratic deployment levels. Although difficult to visualise in this chart, only one general consistency, yet not for all the companies included, is the fourth quarter in any given year, tends to be the highest for deployments and the first quarter of any given year tends to be the lowest for deployments.
Just looking at the quarterly deployments in 2020, unique to last year were the universal declines in the first two quarters. These were driven by the seasonal factor in the first quarter but the COVID-19 impact can be clearly seen in the second quarter of 2020.
Disrupted supply chains and lockdowns restricting deployments were at the core of the further declines.
With an historical emphasis of California, both Tesla and SunPower's deployments declined the most amongst its rivals in the first half of the year.
SunPower's deployments had been 132MW in the fourth quarter of 2019, yet fell to 75MW in the second quarter of 2020, almost a 42% decline.
However, Tesla's deployments fell around 50% having been 54MW in the fourth quarter of 2019, while falling to 27% in the second quarter of 2020.
This compares to declines of approximately 36% for Sunrun and around 33% for Vivint Solar.
The good news was the rebound in deployments felt in the third quarter accelerated further in the fourth quarter of 2020. Both Sunrun and SunPower followed that two-step rebound, then accelerated in deployments at the end the year. Tesla's recovery was, however, more linear.
The quarterly deployments chart also highlights that although Sunrun easily surpassed SunPower with help from the Vivint Solar acquisition, it had been trailing SunPower since the fourth quarter of 2019, even though having first taken the leadership position in the second quarter of 2018 from SunPower.
As with the fourth quarter 2020 deployment figures, Sunrun has accelerated deployments faster than its rivals, although Tesla has significantly closed the gap on SunPower.
Annual revenue
In the chart below we have listed annual revenue for Tesla, Sunrun, SunPower, Vivint Solar and Sunnova.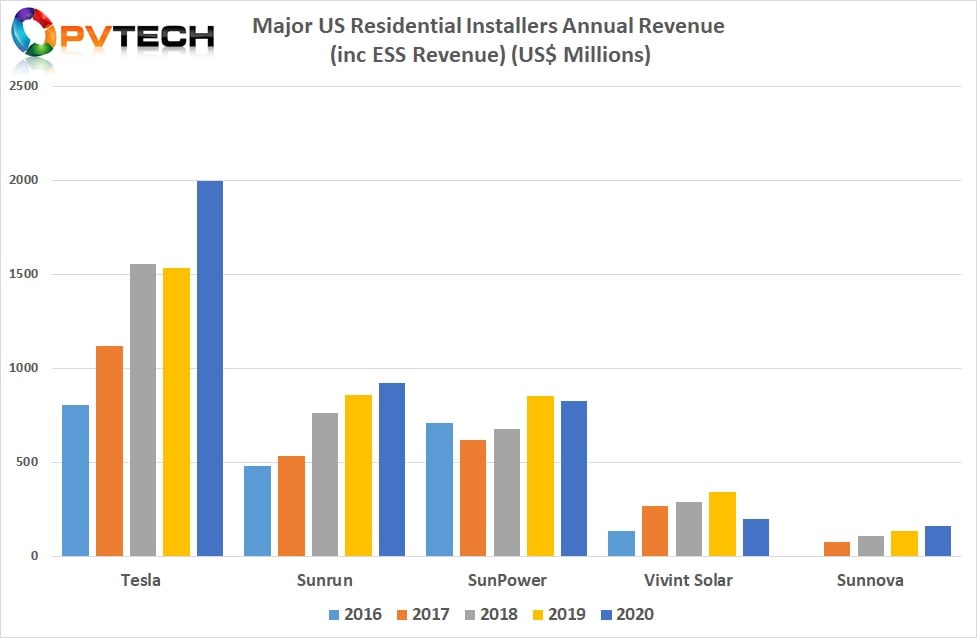 Covering revenue figures for the residential market in relation to these companies financial results is problematic when most of the companies do not breakout energy storage system (ESS) revenue from PV deployment revenue, even though this new product set has rapidly increased in sales in 2020.
The major disparity in the above chart are the revenue figures for Tesla. As a major battery manufacturer and ESS supplier to the utility, C&I and residential markets in the US and other countries, as well as being a supplier to some of its US residential solar installers, such as Sunnova, its figures dwarf its rivals.
We will breakout Tesla's revenue and deployment figures separately further into this article, but clearly Tesla have lead the Residential market in revenue generation since 2017, despite PV deployment collapsing in recent years.
Sunrun's revenue growth is in line with its increase in deployments and overtook SunPower on a revenue basis in 2018.
Sunrun's annual revenue reached US$922 million in 2020, up from US$858.5 million in the previous year, around a 7.5% increase, year-on-year.
SunPower recorded residential market revenue of US$824 million in 2020, down from US$853 million in 2019, a 3.4% decline, year-on-year.
As previously noted, Vivint Solar was acquired after the second quarter of 2020, so revenue in the first half of the year reached US$198 million, compared to US$102 million in the prior year period.
Sunnova's revenue has been increasing since public data has been available after its IPO. In 2020, revenue reached US$161 million, up from US$131.6 million in 2019, around 24% growth year-on-year.
The chart below breaks out the figures Tesla actually reports. These include both PV and ESS deployments, although the ESS deployments cover all market sectors.
The company also combines revenue from ESS and Solar deployments under its 'Energy Generation and Storage' (EG&S) segment.
As the above chart shows, full-year 2020 ESS deployments reached 3,022MWh, compared to 1,651MWh in 2019, an increase of over 82% year-on-year.
Revenue from its EG&S segment in 2020 was US$1.994 billion and US$752 million just in the fourth quarter of 2020.
However, including the residential PV deployments in the chart it becomes clear that the ESS business accounts for the majority of both total revenue and revenue growth in 2020.
The final chart below shows the revenue of the five rival installers on a quarterly basis.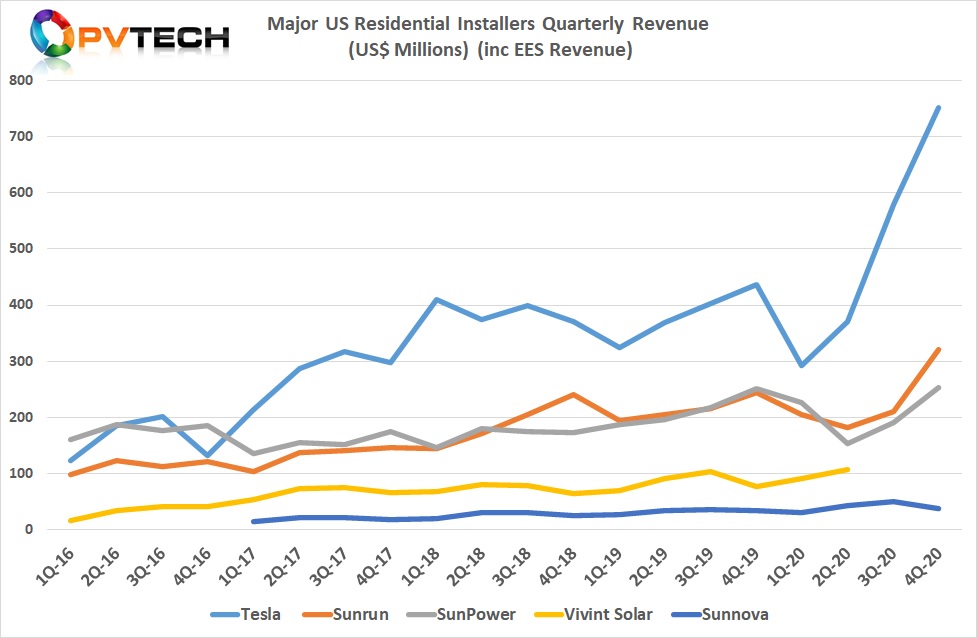 Once again, the data highlights the impact of COVID-19 in the second quarter of the year and subsequent recovery in the second half of the year.
Again, Tesla is seen to be rocketing away from the pack, but the revenue difference between Sunrun and SunPower remains closely contested.
Also of note is the actual revenue decline of Sunnova in the fourth quarter of 2020. PV Tech previously highlighted that this was primarily due to ESS supply constraints from its sole supplier, Tesla.
Both SunPower and Sunrun benefited from increasing supply and sales of ESS in the fourth quarter of 2020.
2021 developments
Looking ahead, the US residential market in 2021 is expected to continue to increase, not least from the impact of major blackouts seen in California and Texas, which are also driving further ESS adoption, although constraints may limit that market growth.
The residential PV market should also benefit from the extension to the ITC as well as legislation, if enacted to include ESS into the ITC system.
Obviously, returning to 18% and above growth rates as seen in 2019 would constitute a strong response to COVID-19, and a change in Presidency that is putting climate change at the front of the economic recovery will also help.
However, one of the challenges facing the US residential market demand could be PV module price increases due to supply constraints of upstream polysilicon and the doubling of polysilicon prices. Although a similar situation exists with solar glass produced in China, capacity constraints and price declines are expected to work through in the second half of 2021.
With further growth expected, it will be interesting to track whether Tesla can build on its PV deployment rebound, while we will also see if Sunrun can maintain its growth trajectory with Vivint Solar after the two become fully integrated in 2021.
SunPower remained overshadowed Tesla and Sunrun in 2020, but it will be interesting to track quarter-on-quarter deployments in 2021, being its first full year as a dedicated US PV installer, and whether it can capture more customers than others with better financing options.
Should Sunnova overcome ESS supply constraints and continue to expand its customer base faster than it achieved in 2020, it still may not challenge its bigger rivals in 2021 but would potential contribute to the publicly listed companies collectively gaining further market share on private companies, which continue to retain the majority market share position.