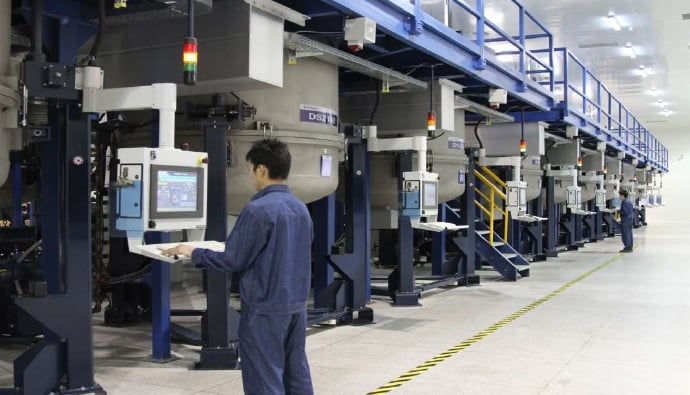 China-based polysilicon and wafer producer Daqo New Energy is feeling the significant impact from the recent change in the Chinese government's solar deployment policies as multicrystalline wafer shipments have been slashed by as much as 50% for the second quarter of 2018.
Daqo has revised its wafer shipment guidance for the second quarter of 2018 to approximately 9.5 million to 10.0 million pieces, down from previous guidance of 15.0 million to 20.0 million pieces.
The company had reported first quarter 2018 shipments of 13.3 million pieces, compared to initial guidance of shipments being the range of 15 million to 20 million pieces.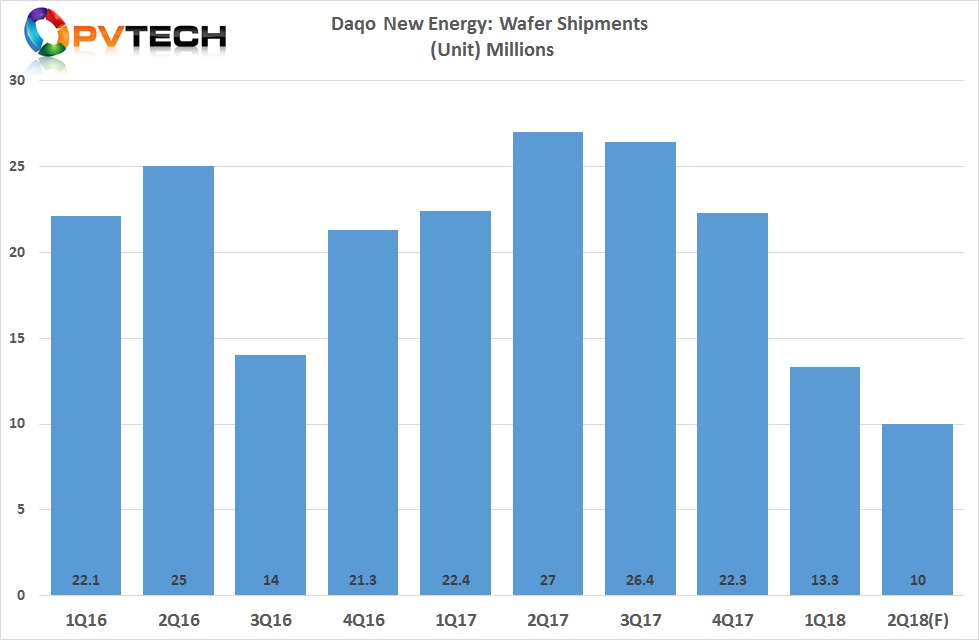 Daqo has seen steep declines in demand since the fourth quarter of 2017, although seasonality plays a part. Quarterly wafer shipments peaked at 27 million pieces in the second quarter of 2017.
The multicrystalline wafer market is also coming under increased pressure from higher efficiency P-type monocrystalline wafers, which have become increasingly cost competitive and the de facto wafer of choice for PERC (Passivated Emitter Rear Cell) technology.
However, Daqo noted that it was the Chinese government's recent decision to cap solar deployments in the utility-scale and Distributed Generation (DG) markets that has impacted domestic demand for its wafers.
This has had a knock-on effect on its external polysilicon sales during the second quarter of 2018, which the company said would be approximately 3,800MT to 3,900MT, compared to its previous guidance of approximately 5,300MT to 5,500MT. Daqo noted that it had sold approximately 2,600MT of polysilicon during the first two weeks of July and reduced inventory to low levels.
The company also pre-announced that it had produced 5,659MT of polysilicon during the second quarter of 2018, which was within the range of its previously announced guidance of 5,600MT to 5,800MT. Daqo also reiterated its full year 2018 polysilicon production guidance of 22,000MT to 23,000MT, which takes into account the impact of annual facility maintenance.
Longgen Zhang, Chief Executive Officer of Daqo New Energy, commented, "We remain confident in the long-term sustainable growth of polysilicon industry despite the new policies' impact on shipments in the short-term. The new policies created significant uncertainty in the market and disrupted our downstream customer's production plans. At the same time, polysilicon average selling prices saw increased volatility in June but have since stabilized over the past two weeks."
Longer-term, Daqo is shifting polysilicon production and new capacity plans to higher purity polysilicon to meet the demand for monocrystalline wafers.
In April, 2018, leading fully-integrated high-efficiency monocrystalline module manufacturer and 'Silicon Module Super League' (SMSL) member LONGi Green Energy Technology secured an ultra-high-quality polysilicon supply agreement with Daqo, which amounted to 39,600MT over a 32-month period.
"The sudden change in policy hasn't impacted our long-term strategic plan to strengthen our leadership position in the industry by further increasing our capacity, improving our cost structure and polysilicon purity," added Zhang.
According to a recent investor note by ROTH Capital analyst, Philip Shen, approximately 30% of China's polysilicon capacity is currently idled, primarily through extended facility maintenance periods that could see capacity in July over 40% lower than it was in May, 2018.
Shen, also noted that Top-tier producers were able to maintain high utilization rates and were clearing inventory in contrast to smaller producers struggling with the lower demand in China.