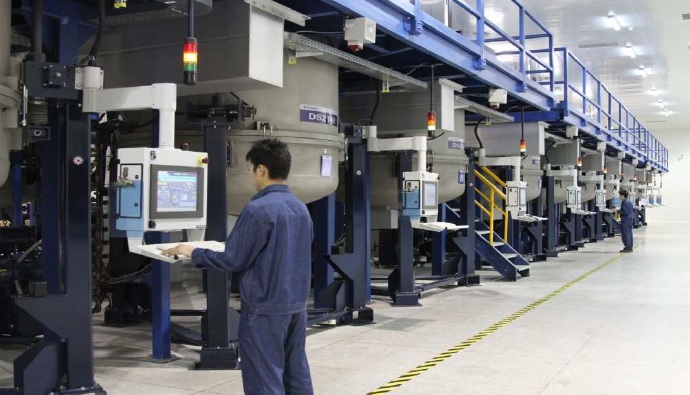 China-based polysilicon and multicrystalline wafer producer Daqo New Energy has said it would discontinue its solar wafer manufacturing operations in September, 2018.
PV Tech previously reported that Daqo's wafer sales volume had been 70% down year-on-year as the caps on utility-scale and Distributed Generation (DG) solar projects in China at the end of May start impacting quarterly business results.
Also recently highlighted by PV Tech's head of market research, Finlay Colville was the faster than expected transition away from multicrystalline wafer usage to monocrystalline, driven by recent Chinese Government changes to its support for solar.
Daqo's multicrystalline wafer sales volume had been slashed by as much as 50% for the second quarter of 2018, due to the impact on the China caps.
Daqo had revised its wafer sales volume guidance to approximately 9.5 million to 10.0 million pieces, down from previous guidance of 15.0 million to 20.0 million pieces. In releasing second quarter financial results, wafer sales volume was reported to be 9.8 million pieces, near the high-end of revised guidance.
However, Daqo guided third quarter 2018 multicrystalline wafers sales volume to only reach between 7 million pieces to 8 million pieces, a 70% decline, year-on-year.
In a short period of time, Daqo has decided instead, to exit the multi c-Si wafer business that is expected to be in overcapacity and experience strong ASP declines going forward.
Daqo said that it expected to incur approximately US$21.6 million in fixed-asset impairment and restructuring charges in the third quarter of 2018, including approximately US$1.6 million in employee severance payments and approximately US$20.0 million in impairment of long-lived assets.
Longgen Zhang, CEO of Daqo New Energy, commented, "We made a strategic decision to discontinue our solar wafer manufacturing operations to accommodate the increasingly challenging market conditions for multi-crystalline wafers. We expect to complete the shutdown of the solar wafer business in the third quarter of 2018. This move will allow us to focus all of our resources and expertise on our core polysilicon manufacturing business and Phase 3B expansion project which will begin pilot production in the fourth quarter of 2018."

However, the high-purity polysilicon market is also expected to be impacted by the caps on solar growth in China and the reduction in the required metric tonnes of polysilicon required as the industry moves to monocrystalline wafers.
In his most recent blog on PV Tech, Colville noted that during recent updates to the "PV Manufacturing & Technology Quarterly" report, the polysilicon model, looking out to 2022, polysilicon consumption is set for a rapid decline to end below 3g/W, from around 4g/W today.
Major polysilicon capacity expansions in excess of 150,000MT have been underway from many major producers in China and Asia, including Daqo, Tongwei, GCL-Poly, Xinte Energy, Zhonghuan Semiconductor and OCI, amongst others.