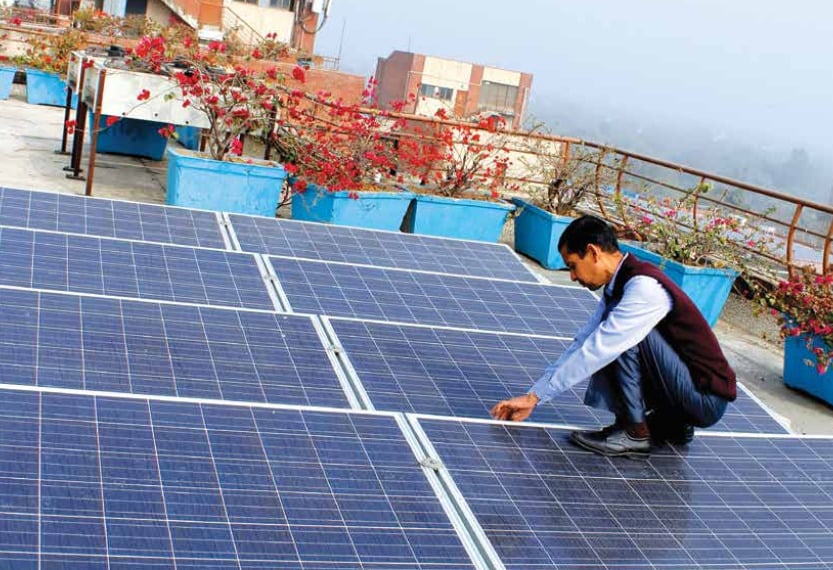 India has put forward two separate policies that both promote and mandate rooftop solar for certain buildings.
In the first case, the central government has released 'model building bye-laws' that mandate rooftop PV installations for both old and new buildings exceeding a specific size and power consumption threshold.
Jasmeet Khurana, associate director, consulting at consultancy firm Bridge to India, told PV Tech: "It is easier to implement these bye-laws on new buildings as the completion certificate can be withheld if rooftop solar is not installed."
States such as Uttar Pradesh, Haryana and Chhattisgarh and Union Territory of Chandigarh have already adopted these bye-laws and more states are expected to adopt the new guidelines over time.
ECBC
Yesterday, Indian energy minister Piyush Goyal also launched the updated Energy Conservation Building Code 2017 (ECBC 2017), which steers builders, designers and architects to integrate renewable energy sources into commercial building design.
The ECBC emphasizes the use of 'passive design strategies', such as using natural ventilation and solar energy for building energy needs.
It also prescribes energy performance standards for new commercial buildings being constructed across India. To comply with the code, buildings must demonstrate minimum energy savings of 25%. Higher energy savings of 35-50% would allow buildings to also achieve ECBC Plus or Super ECBC status.
Power secretary Pradeep Kumar Pujari, said: "The new code reflects current and futuristic advancements in building technology, market changes, and energy demand scenario of the country, setting the benchmark for Indian buildings to be amongst some of the most efficient globally."
The government expects the new Code to result in a 50% reduction in energy use by 2030 in such buildings – or a peak demand reduction of over 15GW in one year and INR350 billion (US$5.4 billion) in cost savings.
ECBC 2017 was developed by Bureau of Energy Efficiency (BEE) with technical support from United States Agency for International Development (USAID) under the US-India bilateral Partnership to Advance Clean Energy – Deployment Technical Assistance (PACE-D TA) Program.
Market overview
Khurana said: "Our view is that economic benefit of rooftop solar will continue to be the primary driver for the market and building bye-laws and ECBC will complement the adoption."
Bridge to India expects rooftop installations to reach 15GW by 2022, significantly higher than forecasts in January by CRISIL Research of 12GW.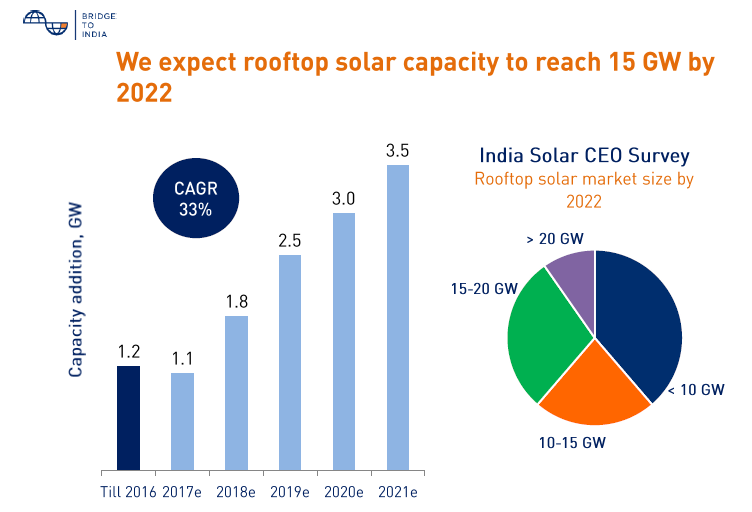 At Intersolar Europe in Munich last month, Vinay Rustagi, managing director, Bridge to India, said India's installed rooftop capacity had reached 1,247MW, with 100% CAGR in three years. Bridge to India also paints a promising picture of C&I solar, claiming that its price competitiveness had become "a no-brainer".
However, the overall rooftop market is highly fragmented and raising capital remains a challenge, with banks still slow to gear up to the sector.
The Commercial and Industrial sector has driven India's rooftop programme after reaching grid parity in a large number of states last year. Delegates at Solar Media's Global Solar Finance and Investment: Emerging PV Markets' event this week told PV Tech that C&I is the best segment in India right now for generating strong returns on a PV project. However, they also raised concern that most of the highest quality offtakers could be taken up within three years. This was because they were already seeing a trend of such offtakers contracting third-parties to partner on solar initially and then moving to a CAPEX model for subsequent projects to achieve greater returns.
Piyush Goyal recently challenged Munich to a race with Varanasi to become the world's first fully clean energy-powered city.