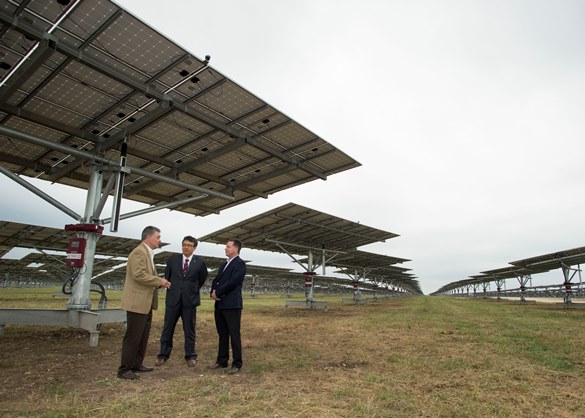 Alamo 5, a 118MW DC, dual-axis tracker-powered solar farm in Texas, has been inaugurated at a ceremony held yesterday by Con Edison Development.
The 118MW DC / 95MW AC plant uses 378,000 PV panels on a nearly-1,000 acre site, located in Uvalde and Knippa, around 85 miles from San Antonio. The plant is the fifth of the Alamo plants, as the name suggests. These are a series of PV power plants in Texas developed by San Antonio-based OCI Power, totalling 450MW and all with CPS as the off-taker of energy.
Con Edison, a developer and owner of renewable energy and natural gas assets, will deliver power from the plant to municipal gas and electric provider CPS Energy.
The plant's trackers, from local firm Sun Action Trackers allow it to follow the sun horizontally and vertically. CPS Energy highlighted that several other suppliers to the project are locally headquartered or based, including Mission Solar Energy, a US N-type solar cell and module manufacturer thought to be the only one of its kind in the US and the North American arm of German inverter maker KACO, which has its US base in San Antonio.
This was a deliberate arrangement on CPS's part to meet criteria of its New Energy Economy initiative, looking to provide economic benefit to local areas through its investments, including into renewables and other clean energy tech such as LED lighting.
Texas, with its historical involvement in the oil industry, is also deploying renewables, but until fairly recently was better known for its wind power installations. Along with the other Alamo projects, there have been several large PV plant facilities developed in the state recently. Texas was earmarked as one of the leading states in the US for non-RPS (Renewable Portfolio Standard) solar by GTM Research.