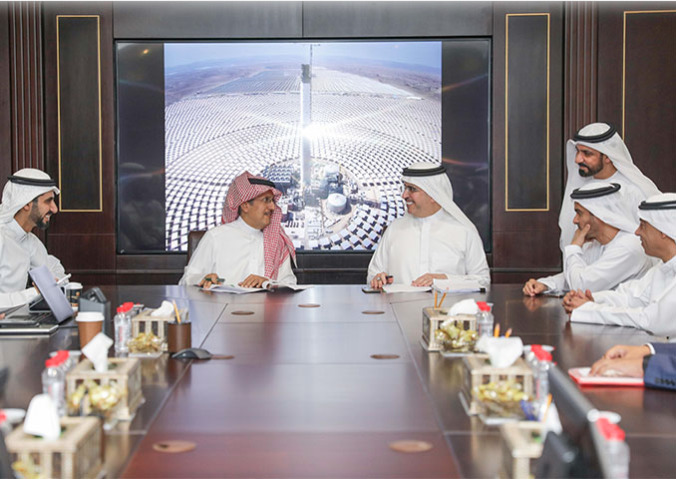 Dubai Electricity and Water Authority (DEWA) has added 250MW of solar PV to its agreement with a consortium led by Saudi-based developer ACWA Power for capacity in the fourth phase of the Mohammed bin Rashid Al Maktoum Solar Park, which is already one of the world's largest Concentrated Solar Power (CSP) developments.
DEWA has signed an amendment to the power purchase agreement (PPA) with the consortium, which includes China's Shanghai Electric, for the new 250MW of PV to be supplied at a price of just US$0.024/kWh, amongst the world's lowest utility-scale solar tariffs.
The total capacity of the fourth phase of the solar park will rise from 700MW to 950MW, however, the original fourth phase was made up of 600MW from a parabolic basin complex and 100MW from a solar tower and is said to have the lowest Levelised Cost of Electricity (LCOE) of US$0.073/kWh for CSP technology. The project is also set to have what is claimed to be the world's tallest solar tower at 260 metres, and the largest thermal energy storage capacity of 15 hours, allowing for round-the-clock energy generation.
The park is set to have an overall power capacity of 5GW by 2030 and investments worth AED 50 billion (13.6 billion). The first 13MW solar PV phase became operational in 2013. The second 200MW PV phase of the solar park was launched in March 2017 and the 800MW third phase will be operational by 2020.
Crown Prince of Dubai and chairman of The Executive Council of Dubai HH Sheikh Hamdan bin Mohammed bin Rashid Al Maktoum said: "Being at the forefront of technological advancement in this sector is critical to Dubai's aspiration of becoming one of the leading cities of the world. We see this project being a unique model for large clean energy projects elsewhere in the world. This ambitious initiative also adds a new facet to our cooperation with two of our strongest partners, Saudi Arabia and China. The project brings together a distinctive combination of advanced knowledge and expertise to create the largest single-site solar park in the world."