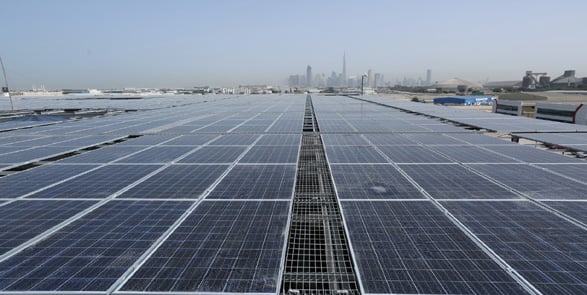 Dubai Electricity & Water Authority (DEWA) has issued a tender for 900MWac of solar located within the Mohammed Bin Rashid Al Maktoum Solar Park.
The tender comes shortly after Dubai's regional neighbour Abu Dhabi launched a 2GW solar tender via the Emirates Water and Electricity Company (EWEC).
Dubai's Phase V project is due to be commissioned in Q2 2021 and the power generated by the plant will be purchased by DEWA under a long-term power purchase agreement (PPA).
Interested parties are now invited to submit a Statement of Qualification (SOQ) by 31 March 2019.
Last November, DEWA added 250MW of solar PV to its agreement with a consortium led by Saudi-based developer ACWA Power for capacity in the fourth phase of the Mohammed bin Rashid Al Maktoum Solar Park, which was already one of the world's largest Concentrated Solar Power (CSP) developments.
DEWA, Expo 2020 Dubai and Siemens also recently broke ground on a joint project that will become the Middle East and North Africa's first solar-based hydrogen electrolysis facility.