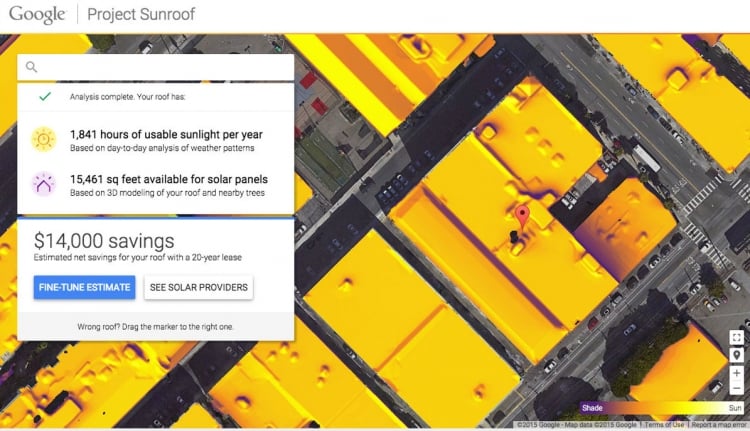 E.ON has formed a partnership with online giant Google to help it conquer the European solar market.
Described as an "offensive on behalf of solar power", the partnership will see Google bring its 'Sunroof' online solar calculator to the German market; the first time it has been released outside of its maiden US market.
The online tool gathers datasets including address, roof pitch and weather patterns to help consumers make informed decisions about the potential for solar installations and how the technology can be of use to them.
E.ON, Google and software provider Tetraeder will expand the tool across Germany, making it available to more than 7 million buildings across German cities and districts including Munich, Berlin, Rhine-Main and the Ruhr.
The German version will initially be available exclusively via E.ON Solar's Germany-facing website, however the company also revealed there is scope to extend the tool across other European markets it intends to enter, particularly the UK.
Last month E.ON announced the launch of its UK-facing solar-plus-storage business, offering domestic solar, battery and energy management system installations to consumers for between £5,000 and £7,500, with various guarantees over performance and savings on offer.
Karsten Wildberger, chief operating officer at E.ON, said the Sunroof tool allowed E.ON to "digitise" the sale of solar systems, which would also increase the technology's appeal, before teasing further product launches.
"[Sunroof] clearly demonstrates the potential benefits of digitalisation for the ongoing shift in energy production. Along with Sunroof and E.ON SolarCloud, we will be developing additional digital products in order to offer our customers the highest degree of independence and security through E.ON solar systems," says Karsten Wildberger, COO of E.ON.
The digitalisation of the energy market is high on E.ON's agenda. In March this year the company outlined its ambition to be a "pacesetter" in the field, which formed part of a wider, internal reflection on its products and services.