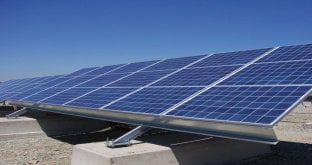 EDF Energies Nouvelles and steel maker ArcelorMittal Méditerranée have commissioned a 12MW solar plant in the Provence-Alpes-Côte d'Azur region of south-eastern France.
ArcelorMittal Méditerranée made 15 hectares of its industrial lands at the Fos-sur-Mer industrial and port complex available for the PV project, located in the Bouches-du-Rhône department.
The project includes 45,000 modules and generates the equivalent of the annual electricity consumption of 7,400 inhabitants.
Up to 40 people were involved in the 10-month-long construction of the plant.
To date, EDF Energies Nouvelles operates close to 1.5GW in wind and solar energy capacity in France.
EDF en was recently involved in the world's lowest ever solar bid in Saudi Arabia.