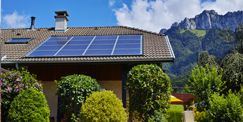 EDF ENR, a subsidiary of the EDF Group, has launched a collective self-consumption product targeting joint-ownership associations, housing associations and vertical housing, that wish to produce their own electricity.
The service named 'Notre Soleil & Nous' comes one year after EDF introduced its 'Mon Soleil & Moi' self-consumption model for residential customers.
To date 1,700 customers have joined the residential 'Mon Soleil & Moi' service. EDF claimed that with an average 60% self-consumption rate for 3kW solar systems, its new smart management solution can bring this up to 80%. The company now claims a 12% market share in the self-consumption for individual households segment in France.
The new 'Notre Soleil & Nous' offer will now allow people living in a block or group of houses to produce their own energy on just one single roof and share it via another smart management solution. The company also offers businesses and authorities customised self-consumption solutions.
In February, France adopted a new law on self-consumption of renewable energy, that was later complemented by major announcements for large-scale solar, PV innovation and self-consumption capacity plans by the French energy ministry.
On 10 May this year, a tariff order also introduced an investment bonus for self-consumption systems, which should help the rollout of EDF's services, the company said.
EDF is also focusing on self-consumption in Belgium, Italy and the UK, as well as "investing heavily" in R&D to prepare for advances in storage and micro-grid technology.
Antoine Cahuzac, senior executive, EDF Group, in charge of EDF's Renewable Energy Division and CEO of EDF Energies Nouvelles, said: "The development of self-consumption is a significant challenge for energy transition and contributes to the advent of new decentralised consumption methods. This is an important area for development for the EDF Group, which offers its customers increasingly innovative and personalised products and services within the context of its Cap 2030 strategy."
In March, EDF Renewable Energy created a new business unit, Distributed Electricity and Storage (DES), which will focus on distributed solar and storage projects up to 30MW.