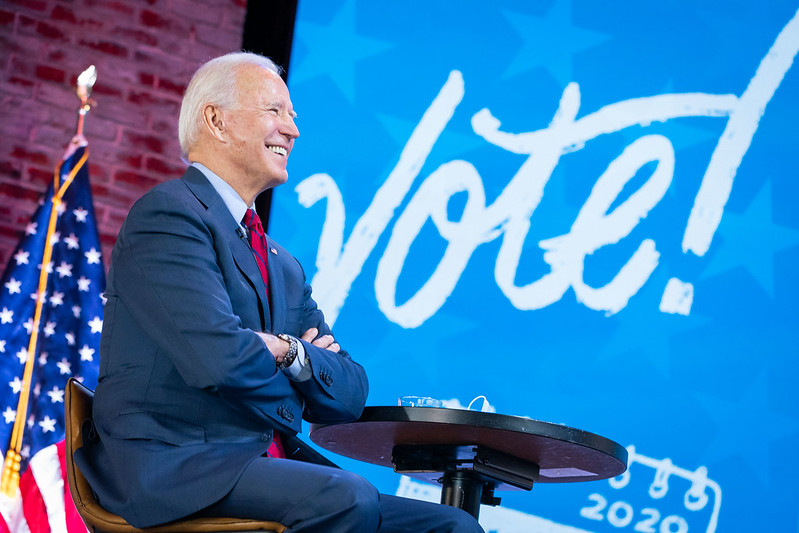 US President Joe Biden faces a growing number of challenges as his presidency approaches a critical juncture and the need to strike a fine balance between solar deployment, domestic manufacturing and international trade has this week been brought into much clearer view.
Biden campaigned against his predecessor Donald Trump at least partly on a clear and ambitious climate message. The US must throw off the Trump administration's shackles and decarbonise at a rapid rate, Biden stressed, while advocating strongly for an extended investment tax credit (ITC) for solar and energy storage to stimulate further deployment.
But now Biden finds himself in the Oval Office, that ambition almost competes directly with other aims of his administration, chiefly a stance of being tough on trade with China but also a much-stated aim of lighting a fire under American manufacturing. Made in America and Buy American have, as a result, been cited repeatedly in speeches made by the president since his inauguration in January.
After the events of the past week, those two aims now sit in much starker contrast. While the passage of the bipartisan infrastructure bill captured headlines, it is the budget reconciliation bill which holds almost all of the 'meat' of Biden's political programme, most notably for the solar industry an extension and expansion of the clean energy investment tax credit scheme and, possibly, the manufacturing tax credit proposed by Jon Ossoff earlier this year.
The amendment tabled by Republican senator Dan Sullivan, which would effectively prohibit renewable projects using China-made technology from claiming federal funds and subsidies – including ITCs – may have come as something of a surprise, but it was certainly popular, receiving the support of 90 of the 99 senators present for the vote.
The bill and the amendment remain under consideration, with further progress not expected for some weeks. Furthermore the budget bill is not expected to pass President Biden's desk until the autumn. But the prospects for solar imports to the US grow more complex by the day at present, with petitions filed yesterday on behalf of a coalition of US-based solar manufacturers seeking an extension of antidumping and countervailing duties to Southeast Asian entities of the solar industry's biggest names, claiming that there is clear and illegal circumvention of the duties placed on Chinese firms in 2017. Wiley LLP is acting on behalf of the coalition, Wiley of course being the practice to have served as counsel for SolarWorld in the dispute which triggered the introduction of Section 201 tariffs.
Further news that US customs officials would appear to now be enforcing the withhold and release order (WRO) implemented by the Department of Commerce in late June, detaining shipments by at least three China-based module manufacturers (albeit two of which have so far only had sample modules seized), only serves to render the importing climate more turbulent.
As a strategic industry, and one that very much plays into Biden's political aim of reinventing the US economy in the wake of COVID-19, supporting domestic solar manufacturing has clearly struck a chord with policymakers in the US. But the impact it could have on domestic solar deployment at a time when installations need to soar has the potential to be significant.
A brief filed by the US Department of Energy yesterday (17 August 2021) and championed by the White House describes how solar PV could provide more than 40% of the US' power demand by 2035, up from just 3% today. To do this, solar deployment must be prolific over the next decade and, thankfully, developers are playing their part. More than 450GW of solar and solar-storage projects had applied for interconnection by the end of 2020, a figure which is sure to have swollen since then. Indeed, analysis compiled by WoodMackenzie and the Solar Energy Industries Association (SEIA) earlier this year forecasted that total US solar capacity could grow to more than 400GW by 2030, propelled by a "return of the roaring twenties" for solar PV, a capacity which would require installations of more than 300GW this decade.
But it is now surely difficult to see installations of anything approaching that figure if Chinese manufacturers are all but locked out of the market. Yesterday's brief from the US DoE illustrates the issue in a nutshell – while solar remains of key importance to climate ambitions, the US has just 2GW of thin film module capacity in the country and a further 3GW of silicon module assembly. The issue is further complicated by the complete lack of solar ingoting and wafering capacity in the US, and the fact that polysilicon facilities in the country have stood idle for some years now. REC Silicon has repeatedly said it intends to restart production at Moses Lake, however this will not take place until at least 2023. Likewise, a 3.3GW module facility currently under construction in Ohio by First Solar, which broke ground this week, is not expected to begin commercial operations until H1 2023.
Under these conditions, solar developers in the US face a difficult quandry: stake a claim in the inevitable queue for First Solar modules, or try to bring forward projects using Chinese modules that face being denied ITCs. Supply chain volatility of the past year has lifted solar module average selling prices (ASPs) and disrupted project economics, leading to some projects being pushed back.
In some respects, the policy landscape emerging in the US echoes that of Modi's India. Modi's aim of installing 100GW of solar PV in the country by 2022 was widely lauded, but against a backdrop of uncertainty surrounding project economics as DISCOMs proved problematic and import tariffs were raised, the country has fallen far short. The introduction of both production-linked incentives for manufacturers and new duties on Chinese imports have led to some activity in manufacturers eyeing new facilities, but certainly not of the scale needed to domestically meet the country's new aim of installing 450GW of renewables (300GW of which would be solar) by 2030. In short, Modi's government failed in both respects.
President Biden therefore faces a difficult balancing act of sating political demand for domestic manufacturing with the broader aim of supporting solar PV deployment to such an extent that it can help meet the country's decarbonisation commitments. All eyes will be on the Biden administration in the remaining months of the year, and indeed throughout the rest of his presidential term, to see if he can achieve it.