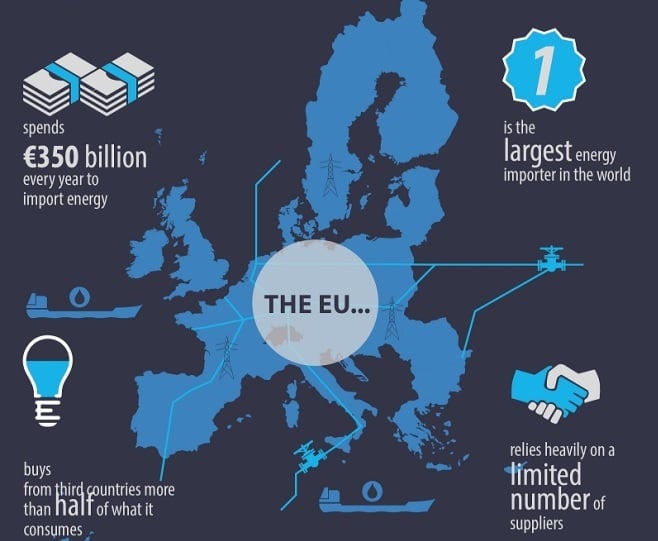 The European Council (EC) has agreed a new position on the internal electricity market, placing consumer empowerment, cross-border trading and higher levels of renewables at the heart of the European Union's efforts to transition to a low carbon economy.
However, the decision to adopt a target of at least 27% of overall energy consumption to come from renewable sources by 2030 has been roundly criticised for lacking ambition and holding back the spread of renewables.
Yesterday the EC reached a general approach on three key areas of the internal market that will be put forward to the European Parliament at the beginning of 2018 – creation of a modern electricity market; establishment of a more competitive and consumer-oriented internal electricity market; and promotion of renewable energy use.
MEPs, lobbying groups and global multinationals had called for a more ambitious target of 35% by 2030, a significant increase from the 20% set for 2020, on the basis that a lower goal would not achieve enough to address the demands of the Paris climate change agreement.
However, the union stuck to the target agreed in 2014 with new legislation to address bioenergy, sustainability and electricity, as well as a range of other sectors.
This was questioned by EU Climate Commissioner Miguel Arias Cañete, who said the target had been set prior to the huge fall in the cost of renewables and had expected higher ambition as a result.
In the transport sector, the renewables target for 2030 is set at 14% for each member state, with a sub-target of 3% for 'advanced biofuels' which will be allowed to be 'double-counted' towards an overall target. Electromobility is to be 'strongly encouraged' by two multipliers of 5x for renewable electricity used in road transport, and of 2x for rail transport.
The heating and cooling target has been set considerably lower, with member states needing to achieve just a 1% increase in the share of renewable energy each year.
Three intermediate targets were also agreed to ensure member states hit the 2030 target, with a requirement for them to be 24% of the way there by 2023, 40% in 2025 and 60% three years before the final target year.
Stifling and postponing the renewable energy revolution
The lower than expected target has been rounded on by campaign groups, with Climate Action Network (CAN) Europe claiming the plans will damage progress towards wider adoption of renewables.
Wendel Trio, director of CAN Europe, said: "EU governments propose to stifle and postpone the bloc's renewable energy revolution. Their response to the need to shift away from fossil fuels to a fully renewable energy system is hopelessly inadequate and could result in a tragic failure to limit climate change.
"The EU's credibility on climate action will be in tatters unless the laws are significantly improved during the negotiations with the European Parliament."
The organisation had expected an acknowledgment that the target should be raised to at least 45% to be consistent with the Paris Agreement, adding that the council's position "lacks teeth to drive investments in renewables".
Imke Lübbeke, head of climate and energy at WWF European Policy Office, called the decision "shameful" and a vote for "a slow-down in renewable energy", while environmental consultancy E3G Brussels said the deal would benefit incumbents and the coal industry.
Cross-border support schemes
In a further change for member states, each will have the possibility of opening up their national support schemes across borders to generators of renewable energy in other member states and will be prevented from making an unjustified retroactive changes to these schemes.
A particular focus of the council's efforts is to facilitate an increase in the use of renewables by consumers, who will have access to simplified notification procedures for small-scale installations along with the rights and obligations of 'renewable self-consumers'.
Kadri Simson, minister for economic affairs and infrastructure of the Republic of Estonia, which currently holds the presidency of the Council of the EU, said: "This decision has a direct and positive impact on all Europeans. Using more renewable energy will help our cities, industries and houses become cleaner, healthier and more sustainable.
"The directive will also make it easier for consumers to take the initiative and become producers themselves. Through a combination of action by governments, companies and consumers, we will be able to maintain our global leadership in renewables."