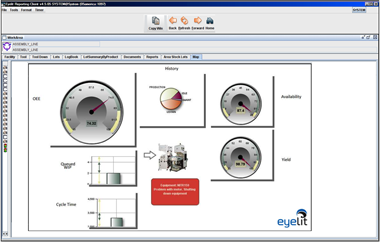 Eyelit Inc., a manufacturing software provider for visibility, control, and coordination of manufacturing operations has launched version 5.3 of its Manufacturing Execution System (MES) software suite.
Problem
Traditional MES software was designed for volume manufacturing and difficult to integrate other operations such as R&D and engineering activities that required prototyping and small batch production.
Solution
'Eyelit Manufacturing' version 5.3 is a major software release that includes extensive enhancements across the entire product line. Eyelit's customer base has expanded into various segments of both hybrid and repetitive discrete manufacturing. The core MES system includes new features and improvements to manage diverse processing techniques and support a tremendous variety of innovative products and composite materials in both R&D and manufacturing.
Applications
Streamlining the methods for managing materials in discrete manufacturing operations.
Platform
Version 5.3 streamlines the methods for managing materials in discrete manufacturing operations. There are new quality control features to help customers handle discrepant material and its impact on work in process. Eyelit Quality Management (QMS) and Special Processing/SWR improvements make quality management processes and experimentation management faster for New Product Introduction (NPI). Extensions to the ad hoc processing functions will help customers improve yields and reduce costs. Furthermore, new rules are now available in the Advanced Dispatching™ module to factor in tool-specific capabilities, batch sizes, dedications, inhibitions, and reservations for improved quality and throughput.
Availability
Currently available.