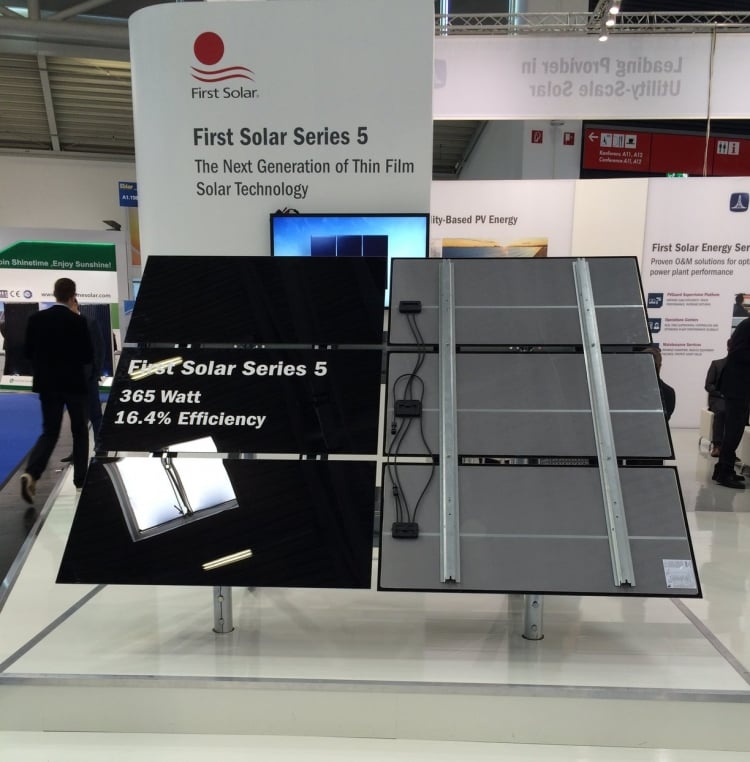 Updated: Leading thin-film producer First Solar has decided to skip the previously planned migration to its Series 5 module platform, while bringing plans forward to migrate to its large-area Series 6 module technology to 2018.
The company has made the radical decision, due to cost competitive issues as global module prices have declined around 25% in the third quarter of 2016 alone.
First Solar said that the Series 6 module technology would be ramped to around 3GW of capacity in 2019. This would mean that its current Series 4 product would be completely phased out in this timeframe.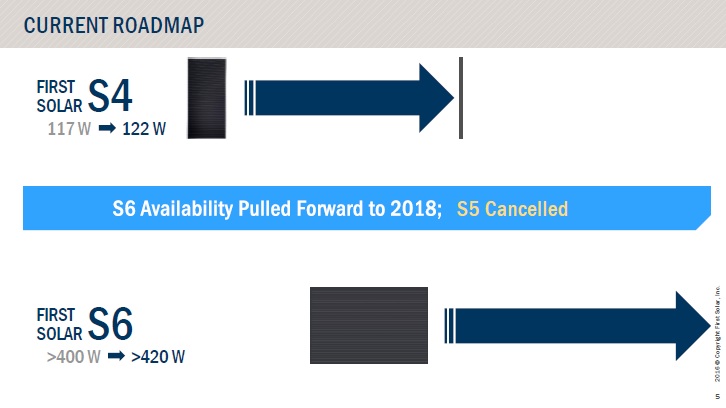 "The acceleration of the Series 6 roadmap is an important development for First Solar," said Mark Widmar, CEO of First Solar. "Following the completion of an internal review process to evaluate the best competitive response to address the current challenging market conditions, we have developed plans that will enable us to more quickly begin production of our Series 6 module. Although the decision to accelerate our Series 6 roadmap requires a restructuring of our current operations, we expect the transition to Series 6 will enable us to maximize the intrinsic cost advantage of CdTe thin-film technology versus crystalline silicon. Recent steep module pricing declines require us to evaluate all components of our cost structure and streamline our business model to best position the Company for long-term success."
The major move would also result in a workforce reduction at its manufacturing facilities both in the US and in Malaysia, while additional reductions in administrative and other staff are also planned, according to the company. The workforce reduction equates to around 1600 jobs, or 27% of First Solar's global workforce.
The plant in Ohio, US would be the first plant to be closed and migrated to Series 6. The facility is First Solar's leading production efficiency and pilot line operations.
A production facility in Vietnam for Series 3 expansion several years ago but never utilized by the company would also be used for Series 6 migration.
Capital expenditures of US$525 to US$625 million are expected and higher than 2016 levels resulting from the investment in Series 6 production equipment.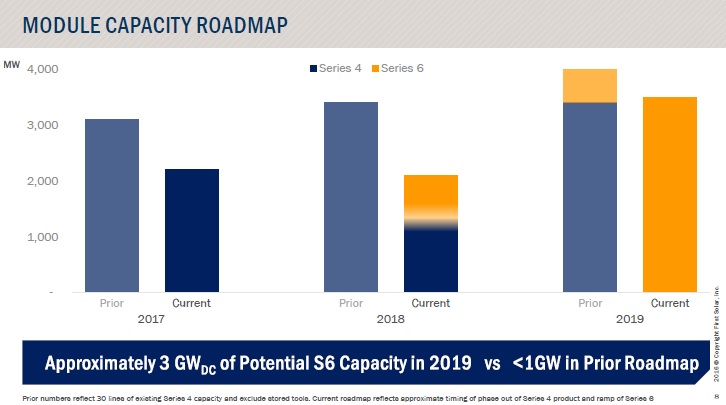 Financial impact
First Solar said that it expected to incur restructuring and asset impairment charges of US$500 to US$700 million, which included a cash impact of US$70 to US$100 million. The charges are anticipated primarily in 2016 and are comprised of US$475 to US$585 million, including asset impairments related to Series 4, Series 5 and stored manufacturing equipment, and charges for cancellation of open purchase orders. The cash impact is anticipated to range from US$50 to US$70 million.
The company said that as much as US$80 million would be attributed for a non-cash impairment of goodwill and US$10 to US$15 million in cash severance charges, also expected primarily in 2016.
Other related charges of US$15 to US$20 million are expected primarily in 2017.
Pre-tax restructuring and asset impairment charges are expected to have an offsetting tax benefit of US$50 to US$100 million.
The loss of jobs is due to the need to convert existing production lines to the large-area format to reduce capital expenditure via not initially needing to build new facilities to house Series 6 production and importantly to make the migration as quickly as possible.
Series 6 is designed to be of higher conversion efficiencies and lower production costs in the larger format that also drives lower installation LCOE cost.
2017 guidance
First Solar also provided net sales guidance of US$2.5 to US$2.6 billion for full-year 2017. Solar power systems net sales expected to comprise 70% to 75% of the total net sales and third party module sales the remainder.
Guidance indicates lower overall shipments and project completion in 2017, compared to 2016. The company recently reduced 2016 sales by around US$1.0 billion to US$2.8 billion to US$2.9 billion from the prior guidance of US$3.8 billion to US$4 billion.
The company said in the conference call that it expect 2017 module production to be around 2.2GW, compared to recently lowered shipment guidance in 2016 of 2.8GW to 2.9GW. The lowered shipments were said to be partially due to the closure of Series 4 module lines for the Series 6 migrations. However, slides provided noted shipments in 2017 were expected to be in the range of 2.4GW to 2.6GW.
R&D expenditures in 2017 would be around US$95 million, the lowest levels since 2010.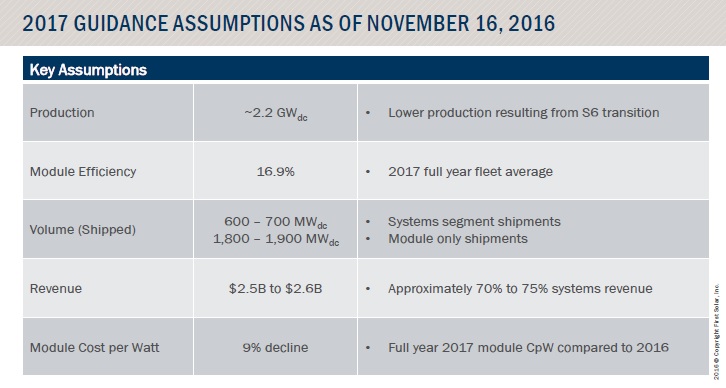 The company expects major cost competitive advantages with the Series 6 modules.